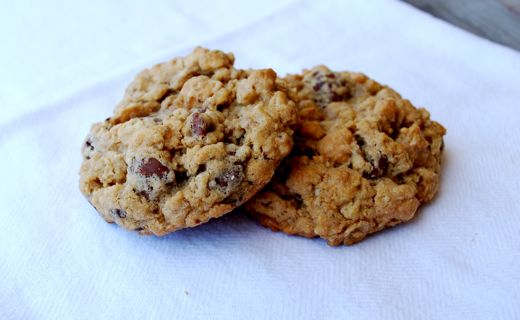 When your Sweet Tooth strikes, I highly recommend making these chocolate peanut butter cookies.  They're gooey and nutty, yet the presence of whole wheat flour and oats might reduce the guilt you experience when you eat one too many of them…like I did.  Enjoy! (in moderation, of course).
Chocolate Peanut Butter Cookies
Ingredients
¼ cup Creamy Peanut Butter
1 Large Eggs
1 teaspoon Vanilla Extract
¾ cup Light Brown Sugar
½ cup Unsalted Butter, (1 stick), room temperature
¾ cup Whole Wheat Pastry Flour, (all purpose flour is fine)
¾ teaspoon Baking Soda
½ teaspoon Kosher salt
1 ½ cups Rolled Oats
1 cup Chocolate Chips, (milk chocolate is good here)
½ cups Peanut butter chips
Instructions
Preheat oven to 325. Using a stand mixer on medium speed, cream together butter, peanut butter, and brown sugar until smooth. Scrape down sides then add vanilla extract and egg and beat again until combined.
Add the flour, baking soda, and salt to a separate small bowl and stir with a fork to combine.
Add flour mixture, half of it at a time, and mix on low just until flour is incorporated. Scrape down sides then add oats & chips; mix until just combined.
Using a small ice cream scoop, place balls of dough at least 2 inches apart on a parchment lined baking sheet. Bake for 12-15 minutes or until golden brown on the edges but still a little gooey in the middle. Let cool on a rack then enjoy!