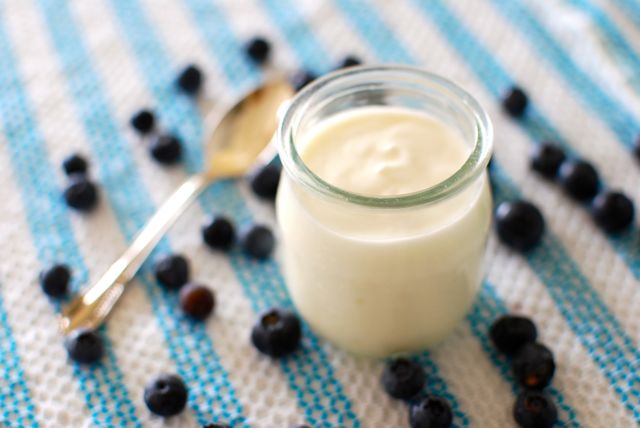 The yogurt aisle is perhaps the most confusing aisle of the grocery store. With so many options, each offering something that supposedly makes it superior, you could spend all your precious shopping time just reading yogurt labels.
I'm here to provide some guidance.
While yogurt selection of course boils down to personal preference, some are definitely healthier and more high quality than others. No need to consume twice the sugar of a serving of ice cream (yes, some yogurts have this much) or "mono- and diglycerides" along with your morning meal, when you can fuel your body with a better option.
Here's what I look for when buying yogurt:
Plain or low in sugar. Plain yogurt is ideal. If you don't like plain, mix in your own fruit, jam, honey, maple syrup, etc. If you prefer to buy a flavor, look for one with:

Less than 18 grams sugar for a 6 oz serving.
Less than 12 grams sugar if the yogurt is Greek (since Greek is strained, it has less milk sugar, so if the sugar grams are high it's from added sugar, not naturally-occurring lactose).

Free of calorie-free sweeteners (aspartame, sucralose, stevia, erythritol). These sweeteners are often found in "light" yogurts, but eating these chemicals is not worth the calories you may save.
Organic. I do occasionally make an exception here, if it's a brand I love and trust to use high quality ingredients (like Siggi's, or Dreaming Cow Creamery), but in general I recommend buying organic dairy products – here's why.
Short ingredient list. As always with food, less is more. All you need to make yogurt is milk and live active cultures – plus fruit and maybe sugar for a flavored yogurt – so watch out for ingredients you don't recognize.
Below are some specific yogurts I recommend and why.
Why I like it: This is my family's everyday yogurt. We love the creamy taste, it has just the right amount of tang, and I find it works well in every context that calls for yogurt.
Why I like it: Dairy from grass-fed cows is more nutritious than from grain-fed, and this creamy yogurt is made from just grass-fed milk + live, active cultures.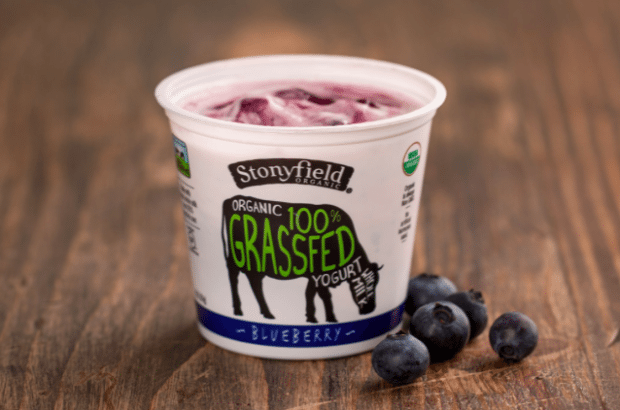 Why I like it: Made from 100% grass-fed milk, tastes great, and even the flavored varieties aren't too sweet (14g sugar in a 6-oz container).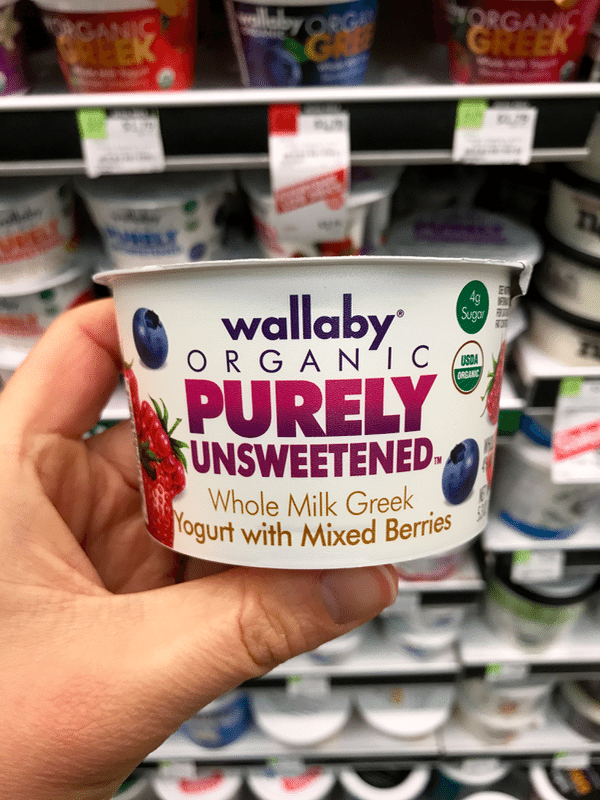 Why I like it: Finally! A flavored yogurt that doesn't have added sugar – just fruit. If you want flavored Greek yogurt without excess sugar, this is your answer. (Also – kids love it because the fruit part is separate from the yogurt, so they can stir and dip themselves).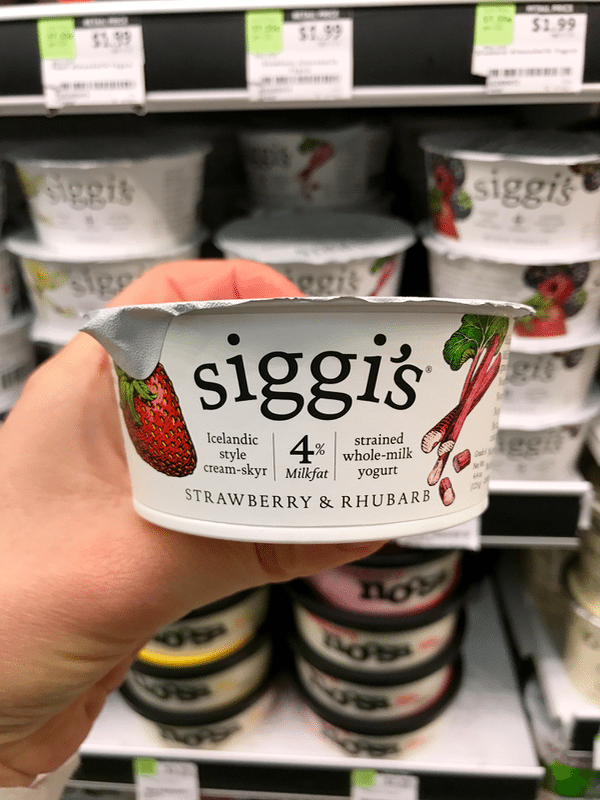 Why I like it: Another great option for those who like flavored yogurt but don't want excess sweetness. Siggi's is not organic, but they do claim to use milk from grass-fed cows, and source their milk from dairy farms in upstate New York, where many farmers still raise their cows on pasture. Siggi's offers many delicious flavors, all only lightly sweetened.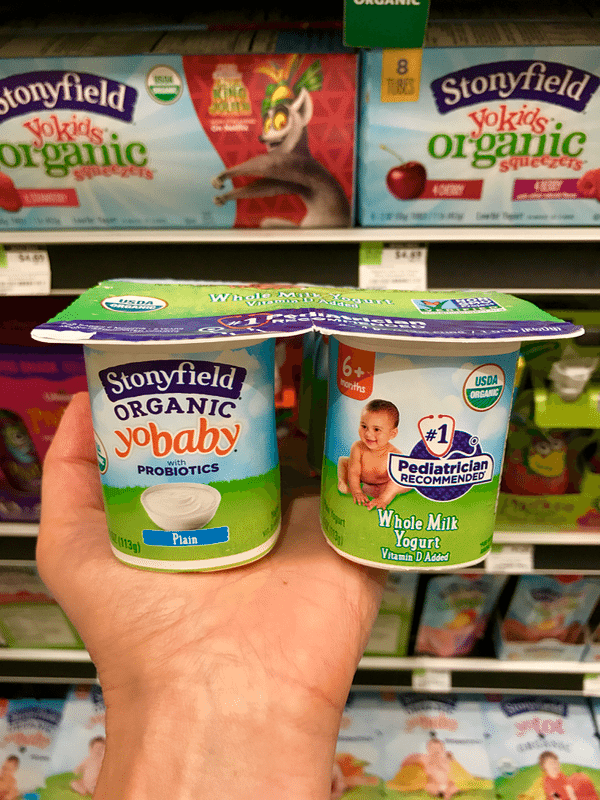 Why I like it: "Kid yogurts" are often the worst offenders when it comes to sugar, so this plain yogurt is a welcome reprieve from those. It's the same yogurt as Stonyfield's regular plain whole milk yogurt, but comes in convenient containers (that my kids love – they don't care that it's plain).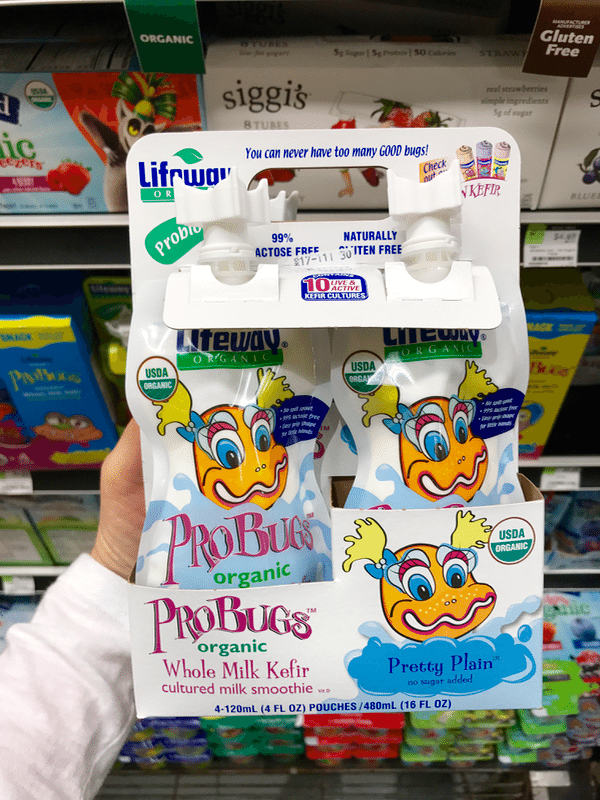 Why I like it: ProBugs is kefir, not yogurt, but I had to give it a shout out because it's another great option for parents looking for low-sugar options that still have the "cool factor" that all those sugary products offer.
Why I like it: We freeze these and use them as "frozen yogurt" for snacks or treats during the summer time. They're fun for kids to eat, but only have 5 grams of sugar and taste like a tangy yogurt should.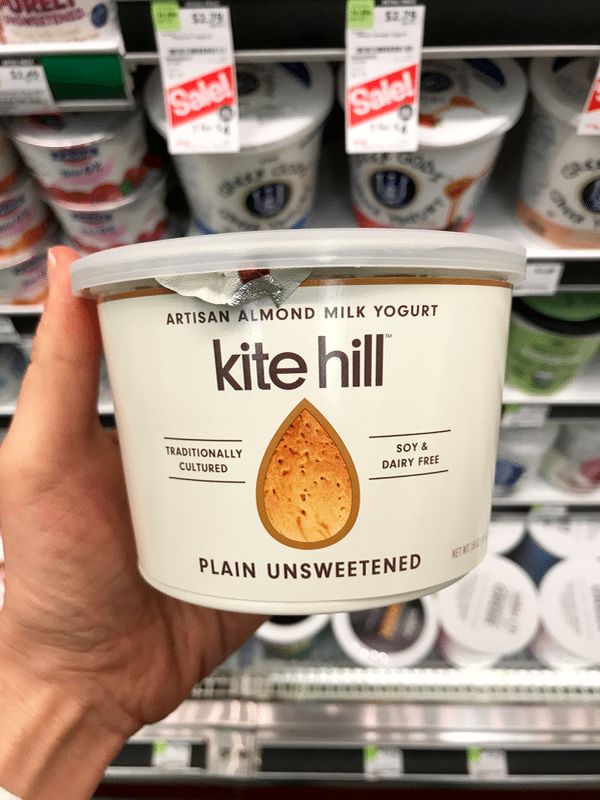 Why I like it: Truthfully, I don't enjoy eating any dairy-free yogurt (besides this homemade coconut yogurt), but if you're looking for an almond milk-based yogurt, this is the purest product I've found. And dairy-free folks I know love it!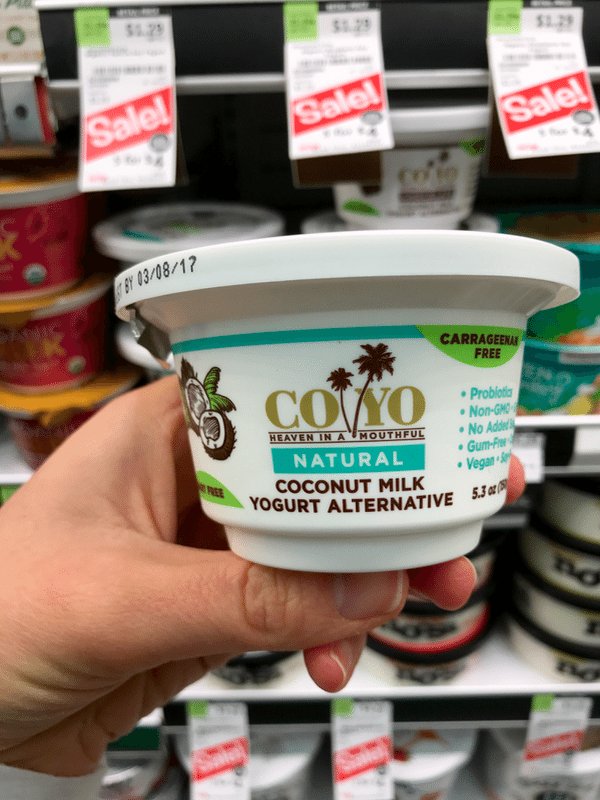 Why I like it: This is as pure as the homemade coconut yogurt I like, and works great in savory dishes like curry, Mediterranean food, etc. If I were to go dairy-free, this would be my staple!