I can't believe it took me this long to discover Coconut Bliss.  This non-dairy coconut milk ice cream is so amazing, it just might replace my regular ice cream habit.  Here's why:
Tastes like heaven
All ingredients are organic and fairly traded
Produced with sustainability in mind at each step of the growing/making/packaging process
Offers a way to indulge in ice cream without overdoing it on the dairy (I love dairy, and will continue to enjoy it as part of my diet, but would like to reduce my dependence on animal-based foods to some extent)
Comes in a variety of flavors so you're not limited to coconut.  Cappuccino, Ginger Cookie Caramel, Chocolate Peanut Butter?  Yes please!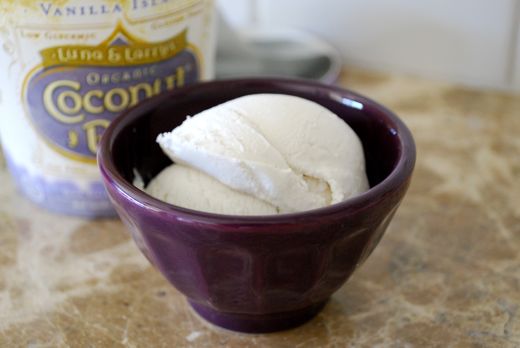 At over 200 calories per serving, Coconut Bliss is a real treat that should be eaten in moderation.  So when you've eaten your veggies, worked out, and feel ready for an indulgence, scoop a little into a (small) bowl and enjoy every delicious spoonful!