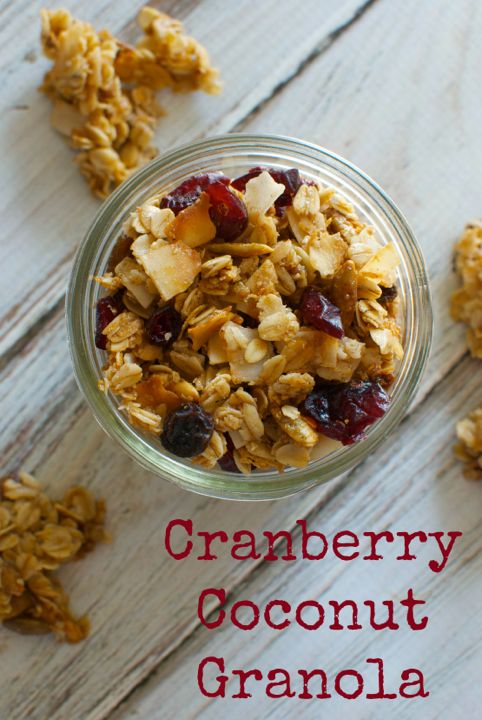 Over the years, I've swapped out all sorts of pantry ingredients for ones I know are healthier.
But when it comes to my homemade granola, I have a confession: I still use corn syrup.
It's horrible, I know. Processed, genetically modified, and really all the bad things I normally don't like. But I loooooove this granola so much, and it never tastes the same with "healthier" sweetener substitutions, so I just keep on makin' it 🙂
This latest version of the granola is even tastier than previous versions, thanks to the extra coconutty flavor and more crunch from the pepitas. Cranberries are my favorite fruit here, but you can use any other dried fruit you like.
And if you're completely against corn syrup, like I'm guessing some of you will be (and I don't blame you), swap it out for organic brown rice syrup which will leave you with a similar texture and sweetness level. Honey would work too, if you're looking for something completely unrefined.
Whatever you do, make this when you have somewhere to bring it, or a lot of people to share it with. Otherwise you may find yourself nibbling away at the batch until it's gone. Not that that's happened to me or anything 😉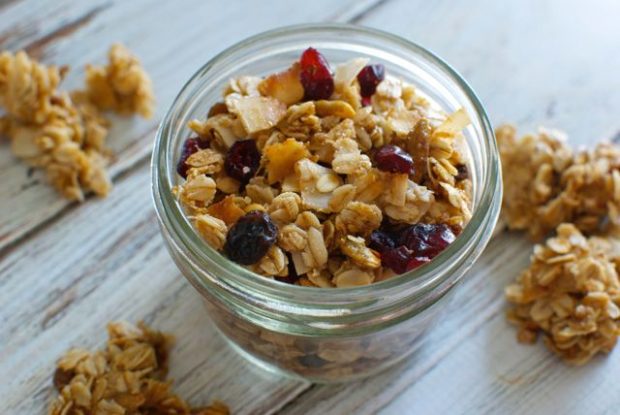 Cranberry Coconut Granola
The best homemade granola you'll ever eat!
Ingredients
⅓ cup coconut oil
⅓ cup corn syrup (or brown rice syrup)
⅓ cup honey
1 tsp cinnamon
¼ tsp nutmeg
¼ tsp salt
1 tsp vanilla extract
3 cups rolled oats
1½ cups flaked coconut (I like Let's Do Organic brand - the big flakes)
1½ cups pepitas
1½ cups crispy rice cereal
1½ cups dried cranberries
Instructions
Preheat oven to 325. Line a baking sheet with parchment paper.
Gently stir together the oil, sweeteners, spices and salt in a large bowl.
Add the dry ingredients and stir until everything is coated.
Pour granola out on the baking sheet and bake for 20 minutes.
Remove granola from oven and turn oven down to 300. Stir the granola then return it to the oven for another 10-15 minutes or until just lightly golden brown.
Let cool for about 5 minutes then toss with the cranberries. Cool completely and store in an airtight container for up to 2 weeks.