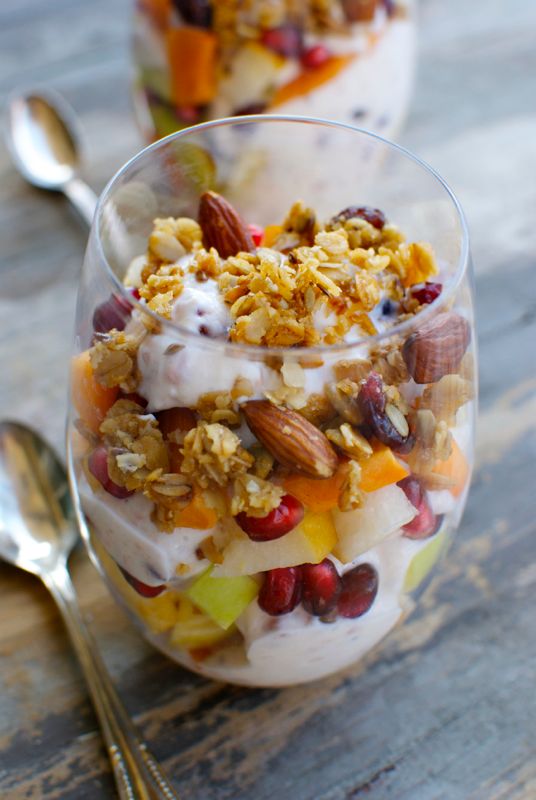 Got extra cranberry sauce?
Not yet, but you will!
Here's a super easy way to put it to (delicious) use.
Simply mix a little cranberry sauce with plain or vanilla Greek yogurt, then layer the yogurt with chopped fall fruits and granola, or whatever other parfait toppings you like.
In my own fall fruit parfaits, I like to include all my favorite fruits of the season: pomegranate seeds, persimmons, pears and apples. Topped with homemade granola (or one of these yummy store-bought granolas), these are the perfect breakfast, snack or healthy dessert.
When Thanksgiving leaves you with leftover sauce, make these and experience cranberry sauce in a completely different way. If you don't have cranberry sauce on-hand, you can still make these using any jam, jelly, or honey you like.
Cranberry Yogurt Parfaits
Repurpose your cranberry sauce in a whole new way with this fall fruit parfait!
Ingredients
1 cup organic plain Greek yogurt
2 Tbsp cranberry sauce
Chopped fruits (pear, apple, persimmon, pomegranate seeds, dried fruit, etc)
Granola, nuts, seeds, coconut flakes, or other crunchy toppings
Instructions
Mix together the yogurt and cranberry sauce.
In a parfait glass, jar or cup, layer the yogurt with your desired fruits and crunchy toppings.
Enjoy!
Notes
I use chopped persimmon, pear and apple along with pomegranate seeds in this parfait, but you can use whatever fruits you like!
I am a blogger ambassador for Stonyfield, because I love their yogurt and company values so much. All thoughts and creations in this post are my own. Thank you for supporting my blog and the brands that make it possible.