I know it's February and Salad Month is technically over. But since I missed a few posts last week due to our family illness, Salad Month has become Salad Months, and we're still going strong 🙂
Today's post is brought to you by my friend Sara Tetreault, the very savvy blogger behind Go Gingham. Sara's frugal living tips will save you money, resources, time…as well as inspire healthier & greener living. You can find great Go Gingham tips on Facebook, Pinterest, Google+ and Twitter.
Do you have a favorite way to eat beets? I do. This creamy beet salad with horseradish. It combines a few simple yet flavorful ingredients: beets, horseradish, and sour cream. Plus, the deep pink color is gorgeous on a plate. This would be a perfect side dish for Valentine's Day – no food coloring needed!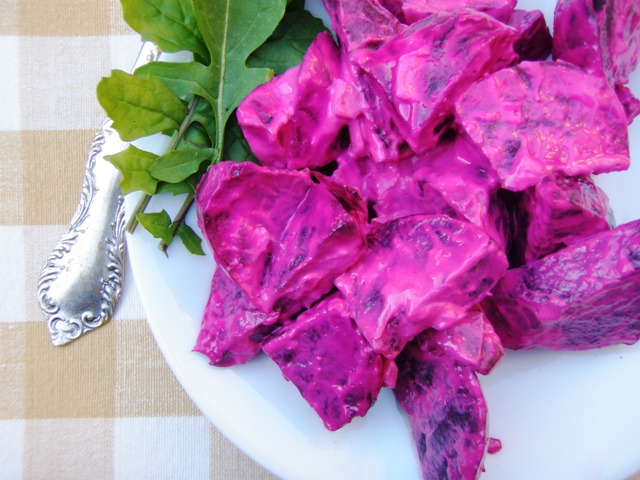 This recipe is easy and tasty. We love to have it with dinner and then my kids will eat it for breakfast the next morning. It's one of those dishes that tastes even better the second day.
If you don't usually cook with horseradish, go slowly when adding it. You can always more horseradish but you can't take it away once it's been added.
Creamy Beet Salad
A perfectly pink & super healthy winter side dish!
Serves:
4-6 side dish servings
Ingredients
4-8 large beets, washed
½ cup sour cream
1 Tablespoon minced onion
1 Tablespoon fresh lemon juice
1 – 2 Tablespoons horseradish
1 teaspoon salt and pepper
Instructions
Pre-heat oven to 400 degrees. Place the beets in a heavy baking dish with lid and bake for about an hour. Beets are done when fork can be easily inserted.
Let the beets cool and then peel and dice beets into small pieces and place in large bowl.
While beets are cooking, prepare the dressing by placing remaining ingredients in a small bowl and stirring until well combined.
When beets are cooled and diced, add them to the dressing and toss until coated.
Taste salad and adjust salt, pepper, and horseradish.
Notes
Large beets need to be cut in half before baking.
It's easier to peel the beets after they've been cooked.
Peel beets by holding them in hands in a large bowl with cold water. Use thumbs to rub peels off.
Don't add too much horseradish to begin with. You can always add more later.
I like to use light sour cream.
Refrigerate salad and keep in an airtight container.