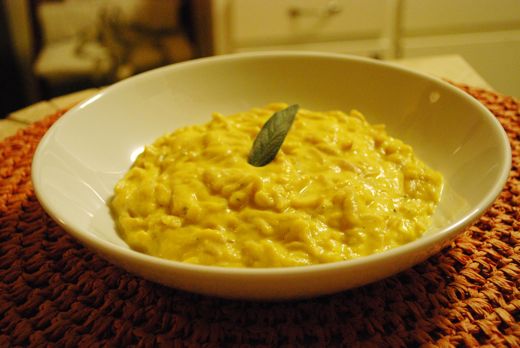 Leftover pumpkin fondue is awesome, not just because you can pile it on bread and call it dinner (or breakfast or lunch), but also because you can easily turn it into a whole new satisfying winter meal.  Most recently, I made orzo pasta with a creamy, cheesy, pumpkin sauce.  Yes, it was pretty healthy – and it came together in a flash.
First, I scraped the remaining fondue and pumpkin "meat" out of the pumpkin skin.
I sauteed some chopped onion in a pot with some fresh sage, then added the pumpkin leftovers to the pot along with some vegetable broth to thin it out a bit.
While this mixture was warming, I cooked and drained some whole wheat orzo
then pureed the pumpkin mixture with a hand blender (aka immersion blender or the wand-looking thing) and folded in a few spoonfuls of yogurt to give it a creamy, silky feel plus a little tang.
Mixed the pumpkin "sauce" with the pasta, sprinkled with a little Parmesan cheese, and we were ready to eat.
This dish tasted rich, and it did have cheese plus a bit of residual cream from the fondue.  But, our plates were filled with more than half sauce, which was primarily pumpkin (a vegetable!), so it was much healthier than a creamy pasta would be at a restaurant.  Yum!