An easy and fun Halloween treat that the kids can help make. Bake the cookie, frost then top with creepy crawlers!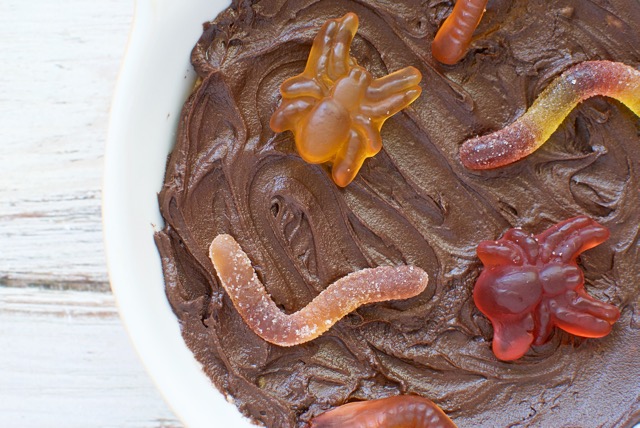 When I was little, nothing gave me more pleasure than making big mud pies in my parents' backyard. I'd spend hours gathering the best dirt, grass, rocks, sticks and if I was lucky – bugs or worms – until I'd assembled what felt like a muddy masterpiece. Then I'd run into the house (leaving tracks that would now make me cringe – sorry, mom!) to invite my parents out for a "taste" of my creation. It was pure, innocent fun, and I hope to give my kids a backyard someday so they can experience the thrill of daily digging in the dirt.
With Halloween on it's way, I thought it would be fun to create a mud pie-inspired treat reminiscent of my childhood backyard creations. This "pie" – which is actually a big frosted sugar cookie – is made with three of my favorite ready-made products, so it's quick to prepare yet still delicious and festive. We've already made it twice this month and are making another one for a friend's Halloween party next weekend. Both kids and adults find this Creepy Crawler Mud Pie hard to resist!
Here's how to make it.
Start by pressing refrigerated sugar cookie dough into a baking dish (size of the dish is up to you). I used Annie's Organic Sugar Cookie Dough – but you could definitely make your own instead. Bake until golden brown.
Let the cookie cool completely, then frost with homemade or prepared chocolate frosting. I used Wholesome! Organic Chocolate Frosting which tastes AMAZING and as far as I know is the only organic prepared frosting on the market. It's perfect for "mud" because the chocolate is rich, dark and spreads easily.
(Good luck not eating it straight from the container.)
Finally, top with an assortment of gummy creepy crawlers.
I used Surf Sweets Gummy Worms (both regular and sour) and Spooky Spiders, for their superior taste and because they satisfy every criteria I can think of when it comes to choosing a better-for-you candy:
•  Made with Organic Fruit Juice
•  No Artificial Colors or Flavors
•   Corn Syrup Free
•  100% Vitamin C per serving
•  Free of the 10 Most Common Allergens
•  Made in a Nut-Free Facility
•  Dairy Free/Casein Free
•  Soy Free
•  Gluten Free
•  Made in the USA
Admittedly, I have a selection of their candies in my pantry year-round, but love these fun seasonal varieties –
which are also great for trick-or-treaters!
I love serving this "pie" with a tiny shovel or fork to keep with the rustic backyard theme. You can also cut it into bars – just line your dish with parchment paper before baking the cookie and refrigerate the bars for 15 minutes so they separate more easily.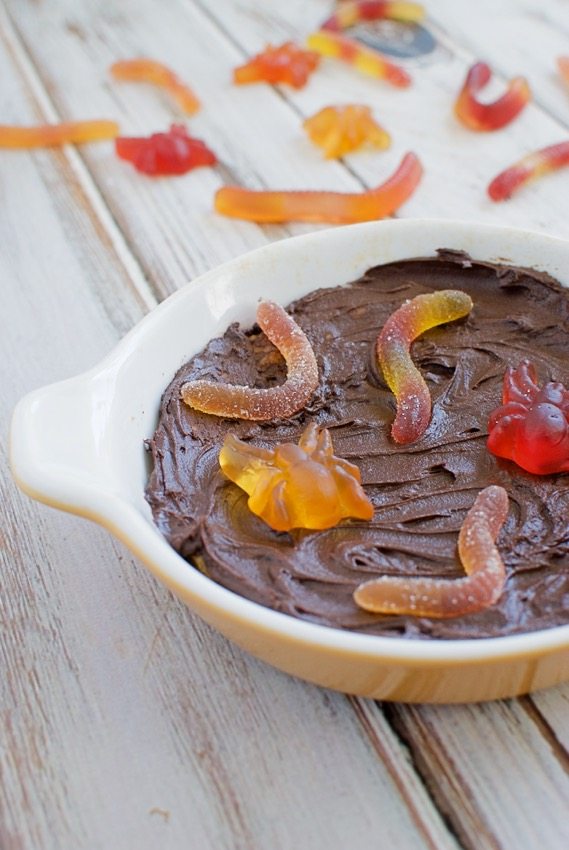 Enjoy! And don't forget to get a little dirty!
This post is sponsored by Surf Sweets – a brand I've loved for a long time. As always, thoughts and opinions are 100% my own. Thank you for supporting my blog and the brands that make it possible.