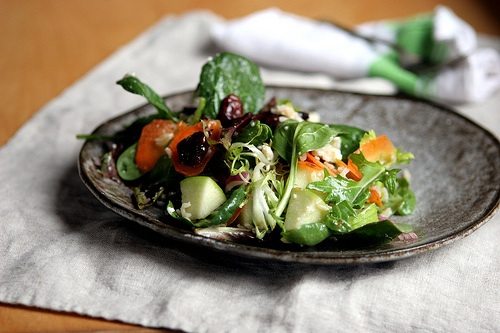 Today's guest post comes from one of my favorite food bloggers, Sarah Murphy-Kangas, aka The Leftoverist.  Her blog, In Praise of Leftovers, is for anyone who's ever opened the fridge and been overwhelmed by what to do with its contents.  It's for inspiration at the end of a long workday, parents at home with kids, and novice cooks who want to get more comfortable in the kitchen.
Hello! I'm honored to be writing a guest post for Amelia's blog. She's been a longtime reader of mine, and I'm flattered that she wants to include me here.
She knows that, when I'm not making up yet another variety of granola, I'm incessantly posting about salads. Of course, summer is prime salad time, at least for those of us in the Pacific Northwest. In the winter, it can be slim pickings. Yes, there's greens–lettuce, cabbage, kale, collards, chard–but not much else in February. But not for The Leftoverist! (That's me.) I can make a salad out of almost anything, in any season. My salad rules go something like this:
Be creative with greens. Mix thinly sliced cabbage with lettuce or spinach. Try ribbons of collard greens or whole herbs–mint, basil, or, in winter, big leaves of Italian parsley or celery leaves.
Make my own dressing. I do not buy dressing. It's expensive, usually flat-tasting, and it takes just a couple minutes to make.
Include something crunchy. For me this is usually toasted walnuts or almonds, but sometimes it's homemade croutons.
Include a bit of protein. This can be cheese, tuna, garbanzo beans, hard or soft boiled eggs, smoked salmon, shredded chicken or turkey if it's around.
Mix savory and sweet. This salad is a class example of that (though I don't always do it).
Cut salad ingredients into uniform size so I can get a bit of everything onto your fork at the same time. There's nothing worse than getting a 2 inch length of rock-hard carrot in your salad!
Throw in a handful of cooked whole grains if you have them around–brown rice, barley, couscous, wheat berries.
I pour the dressing over the salad (not too much!), then gently mix it all up with my hands, making sure to coat everything evenly. This ensures that you get a taste of delicious dressing in each bite and that you don't use too much.
Reserve some of the salad ingredients to sprinkle over the top. This serves two purposes: 1) It's pretty and 2) Guests or fellow potluckers can see exactly what's in your salad.
Wherever you are, I hope you're enduring this winter and maybe even enjoying it. This little salad might help.
Crunchy Fruity Winter Salad
Ingredients
For the Salad:
4 big handfuls mixed greens
¼ c. thinly sliced red onions
2 stalks celery with celery leaves, thinly sliced
1 granny smith apple, cut into small dice
2 medium carrots, peeled, and shaved into coins or strips with a vegetable peeler
1 oz. feta cheese, crumbled
½ c. cooked grains if you have them around (I used cold brown basmati rice)
¼ c. toasted almonds, coarsely chopped
For the Dressing:
1 clove garlic, minced
1½ tsp. kosher salt
freshly ground pepper
2 Tb. honey
3 Tb. apple cider vinegar
¼ c. extra virgin olive oil
handful dried cherries
Instructions
Toss all salad ingredients in a large bowl, reserving a bit of ingredients for the top. Mix all dressing ingredients except for dried cherries together, tasting and adding more of anything to taste. Add dried cherries and let macerate for a few minutes. Drizzle most of the dressing over salad, tossing gently. Add more to your liking.