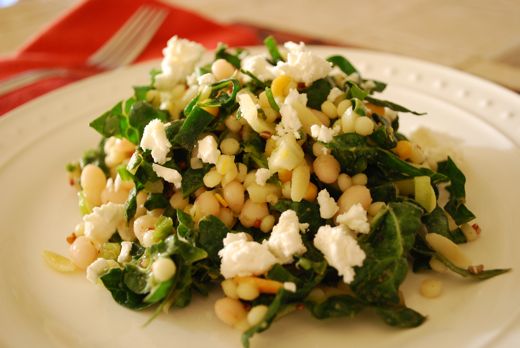 We always hear that we should eat more leafy greens, but preparing them in the same old ways can get boring fast.  Here are some incredibly tasty ways to work more greens into your diet.  My guess is you'll love these dishes so much, you won't even realize you're doing your health a favor!
1. Turn greens into pesto.  In a food processor or blender, whirl together a few big handfuls of any leafy green (really – any green you like) with some lemon juice, garlic, salt, olive oil, and nuts.  You've got pesto!  Spread this on sandwiches or wraps; mix it with vinegar or yogurt/mayonnaise for a salad dressing or dip; or add broth or water and use for a pasta sauce or salad dressing.
2.  Add greens to soup.  Most soups taste even better when you had a few cups of chopped greens at the end.  Spinach, kale, chard, arugula, even baby lettuces wilt nicely in just a few minutes and add great texture and flavor, as well as a nutritional boost.
3.  Add greens to pasta or grain salads.  Pasta and rice salads often have too many noodles and not enough flavor.  Next time you make one, chop a few different kinds of greens (again, any kind – but make one a flavorful herb like mint, basil, or arugula) and toss them in.  You'll get just the added crunch and taste you need to wow your crowd.
4.  Make lasagna or enchiladas with greens.  Saute a huge amount of chopped greens with some chopped onions and garlic until they're very cooked down.  Let cool and mix with cottage or ricotta cheese and a couple eggs and use this as lasagna filling.  The more greens you add, the healthier your lasagna will be – but you'll still be enjoying gooey, cheesy pasta!
Don't forget to vote for my Peanut Butter Pancakes with Chocolate Yogurt Cream!  Vote here and be entered to win a $100 prize pack from Stonyfield and Peanut Butter & Co. – plus receive a $1 off coupon from both companies!