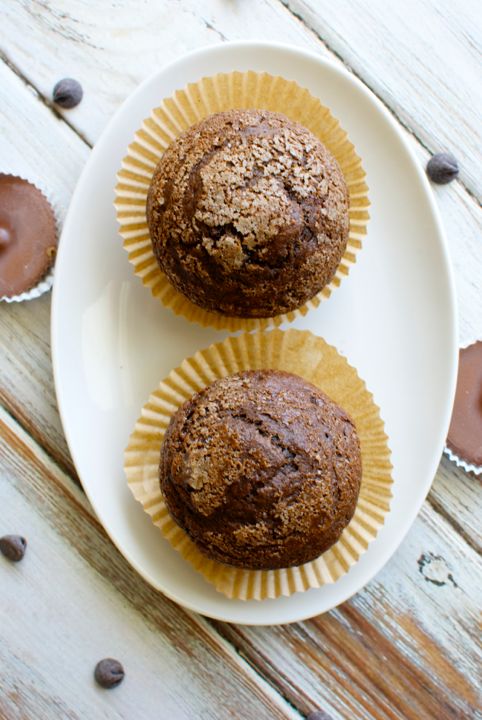 I was going to wait until Easter or Mother's Day to share this recipe with you, but I just can't.
These Double Chocolate Muffins with Peanut Butter Cup pieces are Too. Darn. Good. It would be wrong of me to withhold them for another month!
You might be wondering why a baked good with the words "double chocolate" and "peanut butter cup" in the title could be called a "muffin" – Isn't it just a cupcake?
Some would say yes (including the person who said "muffins are just Americans' excuse to eat cake for breakfast"). But I disagree.
Unlike any cupcake I've ever met, these have whole wheat flour and a significant amount of nonfat plain Greek yogurt. They also have about half the sugar and oil of other chocolate muffins and cupcakes. So if you ask me, these are healthy-ish enough to eat for breakfast – especially if you enjoy one alongside a cold glass of organic milk or crumbled onto a bowl of plain yogurt.
Next time you're bringing a baked good to a brunch, or need a special after-school snack, make these. They'll please any chocolate-loving crowd and you'll love having a few leftover for yourself 🙂

Double Chocolate Peanut Butter Cup Muffins
These double chocolate muffins are less sweet and less greasy than cupcakes, which is why they really are muffins and in my opinion, suitable for breakfast! The whole wheat flour and Greek yogurt make them slightly more nutritious than other double chocolate muffin recipes - and they only have about half the sugar. Enjoy these as part of a weekend brunch or for a treat on any special morning.
Ingredients
1 cup all-purpose flour
1 cup whole wheat flour
½ cup unsweetened cocoa powder (look for fair trade or organic)
1 tsp baking soda
½ tsp salt
¼ cup peanut or canola oil
½ cup sugar + more for sprinkling
2 eggs
1 tsp vanilla extract
½ cup + 2 Tbsp organic half & half (I used Organic Valley)
1 cup plain nonfat organic Greek yogurt (I used Stonyfield)
½ cup semi-sweet chocolate chips
2 pkgs Justin's Peanut Butter Cups (so 4 PB cups, either milk or dark chocolate), rough chopped
Instructions
Preheat oven to 400. Line a 12-cup muffin tin with paper muffin cups and spray with a natural oil spray.
In a medium bowl, whisk together the flour, baking soda, salt and cocoa powder. Add the chocolate chips and peanut butter cup pieces and gently toss to coat with flour. Set aside.
In a large mixing bowl, whisk together the oil, eggs, ½ cup sugar and vanilla.
Stir in the Greek yogurt, then begin to add the dry ingredients a scoop at a time, alternating with the half & half until ingredients are just combined (careful not to over-stir).
Using an ice cream scoop or measuring cup, fill each muffin paper ¾ of the way up. (Note: you will have extra batter. I usually put the extra into a couple of greased ramekins or a small baking dish and bake along with the muffins.)
Bake at 400 for 18 minutes. Let cool in the pan for 2-3 minutes then remove to a cooling rack to cool completely. (Note: careful not to over bake, or the muffins may become dry).