A hearty, veggie-packed soup the whole family will love.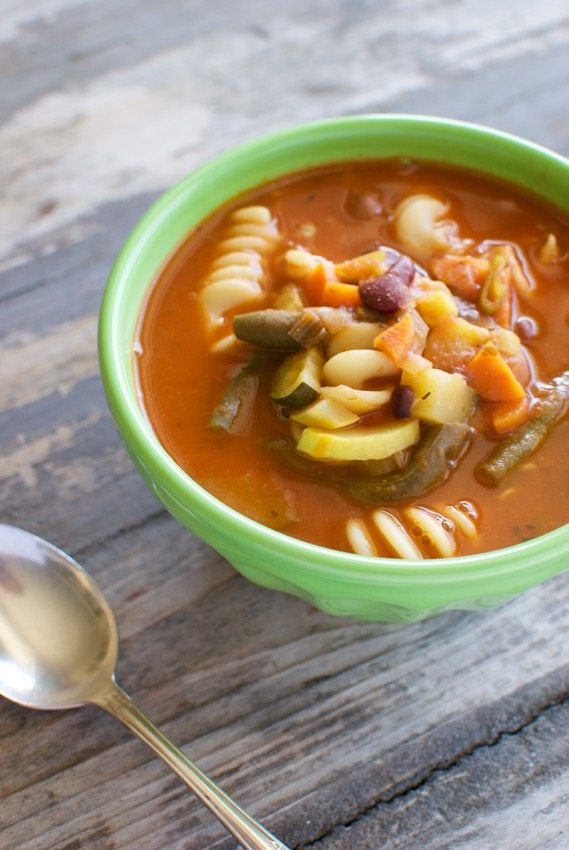 As any parent knows, finding a meal that every family member will eat is a true accomplishment.
This soup, my friends, is one of those.
Normally my 4-year-old wants nothing to do with "mixed" dishes. Even if she likes all the ingredients in a soup, she'd rather eat everything separately. But for some reason she loves this Easy Minestrone. And the rest of us not-so-picky folks do too. Thus I make it at least once a week, and we usually devour the whole pot in one sitting!
As with every dish that comes out of my kitchen, the exact contents of this soup vary depending on what I have on-hand. The recipe below is my "standard" one, but I've used all kinds of other veggies – zucchini, cubed sweet potato or squash, mushrooms, fresh corn kernels, and so on. You can also use any kind of bean you like. It's a flexible soup, and delicious no matter what.
Pair with your favorite sides for a hearty, healthy winter meal!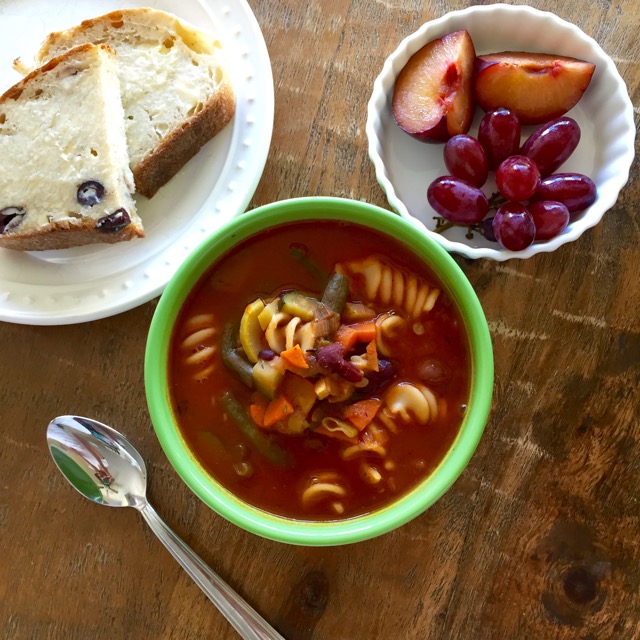 Easy Minestrone Soup
A hearty, veggie-packed soup the whole family will love.
Ingredients
1 Tbsp olive oil
½ an onion, chopped
2 carrots, diced
1 clove garlic, finely chopped (or ½ tsp garlic powder)
½ tsp thyme
½ tsp oregano
1 bay leaf
1 15-oz can three-bean medley (or any other kind of bean), rinsed and drained
1 15-oz can tomato sauce
2 cups frozen mixed veggies (peas-carrots-green beans or something similar)
6 cups low-sodium veggie broth
2 cups cooked pasta noodles
Salt to taste
Instructions
Heat the oil in a medium-large pot over medium heat.
Sauté the onion and carrot in the oil for 5 minutes or until softening.
Stir in the garlic, herbs and bay leaf and cook another minute.
Add the beans, tomato sauce, frozen veggies, and broth and simmer for 10 minutes.
Gently stir in the pasta and cook an additional 15 minutes. The pasta will absorb some of the water and also slightly thicken the soup, which is what we want here.
Remove bay leaf and taste for salt (I don't add any, since the broth and tomato sauce are salty).
Serve with crusty bread and a sprinkle of Parmesan cheese.