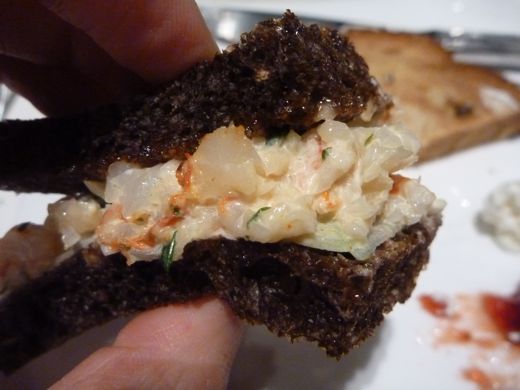 We're all familiar with tuna salad, egg salad, and maybe even my favorite salmon salad, but shrimp salad sounds a little more exotic.  Really, it's no harder than whipping up any of the others, and is a refreshing change of pace when you need a sandwich switch-up.  I had a shrimp salad sandwich (see above) at Tea By The Sea at the Getty Museum last week, and it inspired me to make this one at home.  Delicious!  You can easily turn these into tea sandwiches if you're having company, or use the salad as a topping on crostini and serve as an appetizer.
Shrimp Salad Sandwich
Ingredients
3 tablespoons Light Mayonnaise
2 tablespoons Fresh Lemon Juice
2 tablespoons Plain Nonfat Greek Yogurt
1 pound Frozen pre-cooked shrimp, thawed
2 tablespoons Tarragon, fresh, chopped
8 pieces 100% Whole Grain Bread
½ whole English or Hothouse Cucumber, thinly sliced
Instructions
In the bottom of a medium bowl, mix together mayo, yogurt, lemon juice, and fresh tarragon. Add salt & pepper to taste. Chop shrimp into small pieces and add to bowl.
Spread a little more light mayo, or some Dijon mustard onto two pieces of bread. Add thin slices of cucumber and a generous pile of shrimp salad onto one piece of bread then top with the other bread to make a sandwich. Repeat with other sandwiches, if making more. Extra of this salad can be stored in the fridge for 3 days.
[emer recipeid=17]