Pumpkin Graham Ice Cream Sandwiches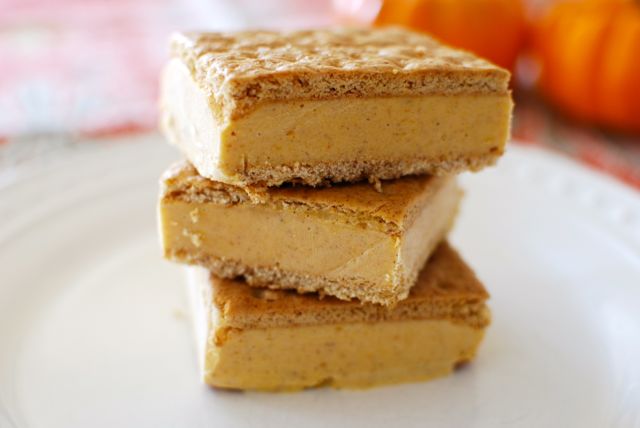 8 whole graham crackers (the whole big rectangle)
6 scoops vanilla ice cream (about 2 cups)
¼ cup canned pumpkin puree
½ tsp pumpkin pie spice
½ tsp cinnamon
Scoop the ice cream into a medium bowl and let soften a couple minutes at room temperature.
Place 4 graham crackers in the bottom of a baking dish.
Stir the spices into the pumpkin puree, then add the pumpkin to the ice cream and quickly whisk it all together until smooth (work fast, otherwise little bits of pumpkin will freeze and result in a chunky ice cream)
Place a generous heap of ice cream onto each of the 4 graham crackers in the dish, then top with remaining graham cracker to make a sandwich.
Put sandwiches into freezer for 3-4 hours or until firm.
Before serving, let sandwiches stand at room temperature for 3-5 minutes, then cut to whatever size you'd like. Serve immediately.
Dress these sandwiches up a little more by rolling in mini chocolate chips, sprinkles, or chopped nuts!
Serving size:
1 graham square
Recipe by
Eating Made Easy
at https://eating-made-easy.com/pumpkin-graham-ice-cream-sandwiches/