Blueberry Muffins with Kefir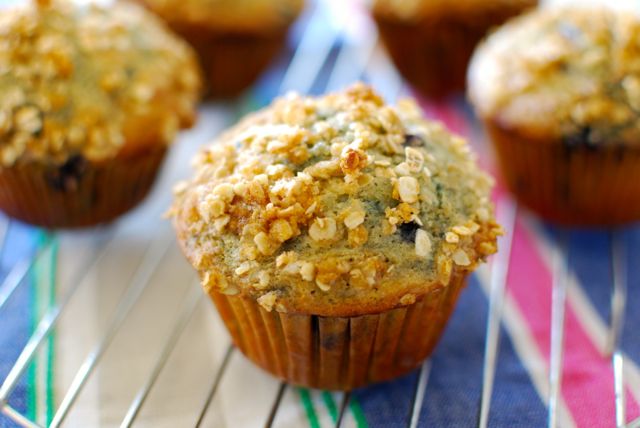 2 cups whole wheat pastry flour
1 tsp baking powder
1 tsp baking soda
1 tsp salt
¼ cup canola or grapeseed oil
2 large eggs
½ sugar
1 tsp vanilla
1 cup blueberry kefir
1¼ cups frozen wild blueberries (the tiny ones)
For the topping:
1 Tbsp butter
2 Tbsp quick oats
2 Tbsp brown sugar
Preheat oven to 400. Place paper cups in a muffin tin and spray lightly with cooking spray.
Gently mix flour, baking soda, baking powder and salt in a medium bowl and set aside.
In a mixing bowl, beat together the oil, eggs, sugar and vanilla.
Add the dry ingredients to the wet, alternating with the kefir, until mixture is just incorporated. If mixture seems dry, add a little more kefir (up to ¼ cup)
Toss frozen blueberries with an additional 1 tsp flour then gently fold into the batter.
Scoop batter into muffin cups.
Using a fork or your fingers, mix together the butter, sugar and oats and sprinkle a little of this mixture on top of each muffin.
Bake at 400 for 17-20 minutes, or until a knife/toothpick comes out clean.
Let muffins cool on a wire rack for 10 minutes before digging in.
Recipe by
Eating Made Easy
at https://eating-made-easy.com/blueberry-muffins-kefir/