Fresh Herb Salad with Kumquats and Pistachios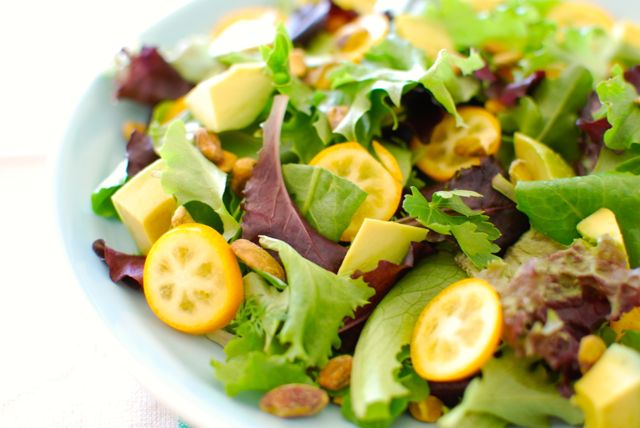 Serves:
Serves 2 as an entree, or 4 as a side salad
One 5 oz bag Earthbound Farm Herb Blend
8-10 kumquats, washed and thinly sliced (remove any seeds you find)
1 small avocado, cut into chunks
3 Tbsp shelled salted pistachios
For the vinaigrette:
3 Tbsp freshly squeezed orange juice
2 Tbsp extra virgin olive oil
½ tsp Dijon mustard
Pinch each salt & pepper
Place the greens in a salad bowl or on a large platter.
Top with the kumquats, avocado and pistachios.
Whisk the vinaigrette ingredients in a small bowl, then drizzle the dressing on the salad.
Serve right away.
If you can't find the Herb Blend, use any baby greens you like, along with 2 Tbsp of one chopped fresh herb (parsley, dill, basil or mint).
Recipe by
Eating Made Easy
at https://eating-made-easy.com/fresh-herb-salad-kumquats-pistachios/