Yellow Lentil Power Salad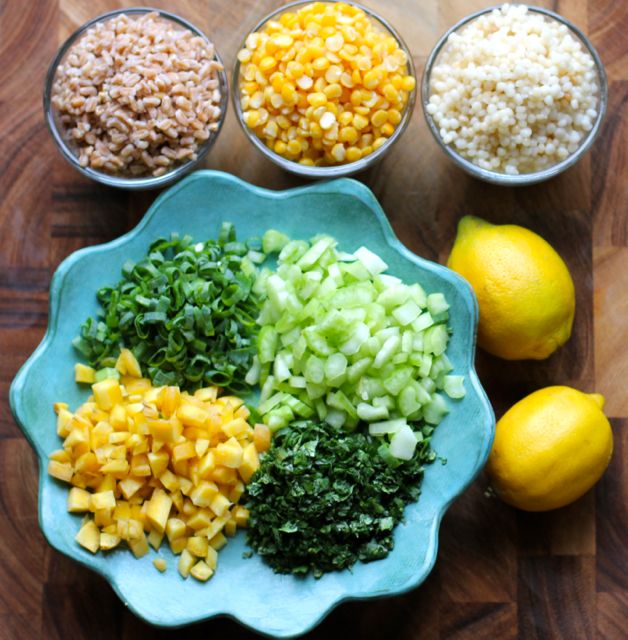 ½ cup yellow lentils
½ cup farro
½ cup Israeli couscous
2 celery ribs
2 carrots
4 scallions, green parts only
½ cup cilantro leaves (pull the stems out and keep for other dishes)
fresh lemon juice (about 2 lemons)
extra-virgin olive oil to taste
salt + freshly ground pepper to taste
Cook each of the grains/lentils separately and according to package directions, minus a couple of minutes (so the grains and lentils that are still "al dente," when you bite into them. Mushy grains will result in a mushy salad).
While the grains are cooking, chop the celery and carrot into small dice.
Chop the scallions and the cilantro leaves a little smaller so that they distribute evenly through the salad.
Allow the grains to cool before combining the ingredients to make the salad.
When ready to assemble the salad, combine the grains and veggies in a large bowl, then toss generously with fresh lemon juice. Drizzle with extra-virgin olive oil until wet and shiny (a couple of tablespoons should be enough), and then sprinkle with salt and pepper.
Stir well to combine, then taste and see if it needs more salt or lemon, etc. Itâ??s a good idea to go with more lemon (and salt if needed) because the grains will absorb the flavors.
In my experience, the lentils cooked in ten minutes, the the farro cooked for 20 minutes, and the couscous was ready in just four minutes.
Recipe by
Eating Made Easy
at https://eating-made-easy.com/yellow-lentil-power-salad/