Three-Color Hummus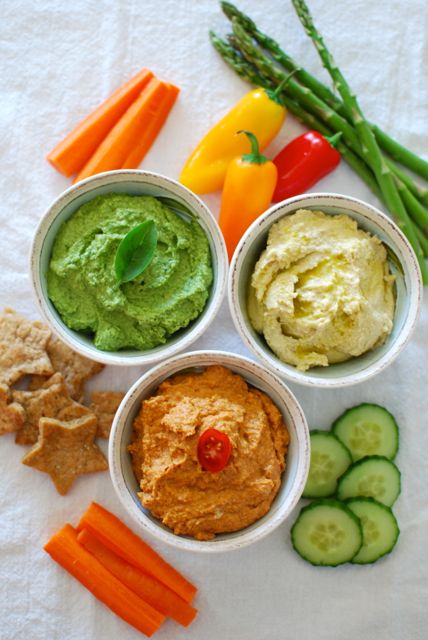 4½ cups cooked garbanzo beans (rinsed & drained if using canned)
⅔ cup tahini (sesame paste)
⅓ cup + 2 Tbsp extra virgin olive oil
⅓ cup + 1 Tbsp fresh lemon juice
3 large garlic cloves, coarsely chopped
2 tsp salt
Freshly ground black pepper
¼ cup + 1 tsp oil-packed sundried tomatoes, drained and chopped
1¼ cups packed baby spinach leaves
½ cup packed fresh flat-leaf parsley
Pita bread, pita chips and/or vegetables for serving.
Fit a food processor with the steel blade.
Combine the beans, tahini, ⅓ cup of oil, ⅓ cup lemon juice, garlic, ½ cup water, 2 tsp salt and a few grinds of pepper in the food processor. Process until the mixture is smooth, scraping down the sides when necessary.
If the hummus is thicker than desired, thin it by adding 2 Tbsp at a time of cold water.
Remove a third of the puree and transfer it to a serving bowl. This is the classic hummus.
Remove an additional 1⅔ cups of puree and set aside (this will become the green hummus).
Add the sundried tomatoes and 2 Tbsp water to the hummus remaining in the food processor. Blend until smooth, then transfer to a serving bowl.
Rinse the food processor bowl and blade. Place the spinach and parsley in the bowl and pulse until the mixture is finely chopped. Add the reserved plain hummus, remaining 2 Tbsp oil and 1 Tbsp lemon juice. Process until smooth. Season with salt & pepper and transfer to a serving bowl.
Serve with desired veggies and pita chips.
Calories:
70
Fat:
4 grams