Pumpkin Ricotta Pancakes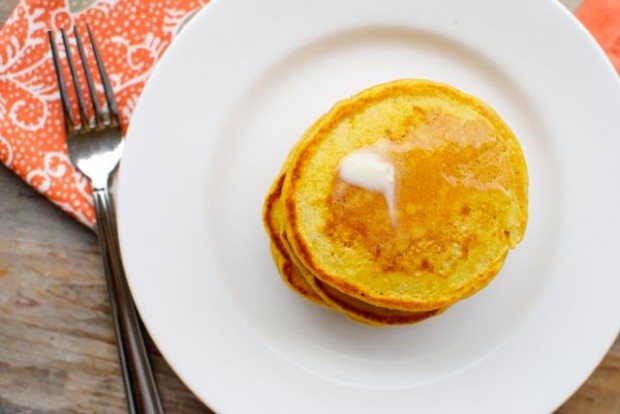 1 cup white whole wheat flour
½ cup all-purpose flour
2 tsp baking powder
½ tsp salt
½ tsp cinnamon
¼ tsp nutmeg
¼ tsp cloves
2 Tbsp canola or coconut oil
1 large egg
½ cup whole milk ricotta cheese
½ cup + 2 Tbsp canned pumpkin
2 Tbsp sugar
¼-1/2 cup milk
Butter, for greasing griddle and serving
Maple syrup, for serving
Gently combine the first 7 ingredients (all the dry) in a small bowl. Set aside.
Whisk together the oil, egg, ricotta, pumpkin and sugar in a large mixing bowl.
Pour half of the dry ingredients into the wet and gently stir, then add ¼ cup milk and the remaining dry ingredients and stir until just combined.
If batter is very thick, add a little more milk until desired consistency is reached. (I used ⅓ cup milk). Thinner batter will make thinner pancakes.
Heat a griddle over medium heat.
Add butter to the pan and pour batter on to make pancakes. Cook 2-3 minutes or until bubbles start to form, then flip and cook an additional minute before removing to a plate. Serve immediately with butter and/or maple syrup.