Baked Eggs with Roasted Cauliflower, Peas and Pesto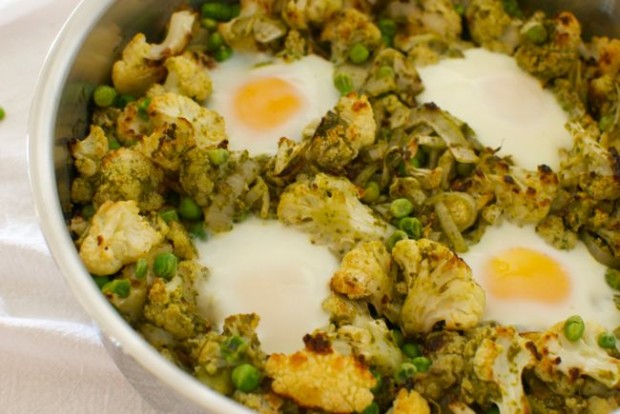 Serves:
2 entree servings, or 4 smaller servings
3 Tbsp olive oil
1 head Earthbound Farm cauliflower, cut into small florets
1 small-medium onion, sliced
1 cup Earthbound Farm frozen peas
¼ cup pesto of your choice
4 organic eggs
Kosher salt
Lemon wedges and Parmesan cheese, for serving (optional)
Preheat oven to 425.
Add the oil to an oven-proof sauté pan or skillet and heat over medium heat.
Add the onion and cauliflower florets, along with a generous pinch of salt, and sauté for 5-8 minutes or until veggies begin to brown.
Place the whole pan in the oven and roast veggies for 10-15 minutes or until softened.
Carefully remove the pan from the oven and stir in the peas and pesto.
Create four little divots in the veggies and crack an egg into each hole.
Return to the oven, reducing heat to 400, and bake for 10-15 minutes or until eggs are cooked to your liking.
Serve with a squeeze of lemon and a sprinkle of Parmesan cheese, if desired.
Remember to place a pot-holder over the handle of the pan before removing it from, or returning it to, the oven so as not to burn your hand! It's easy to forget!
Recipe by
Eating Made Easy
at https://eating-made-easy.com/roasted-cauliflower-recipe/