Grapefruit Salad with Avocado, Honey and Mint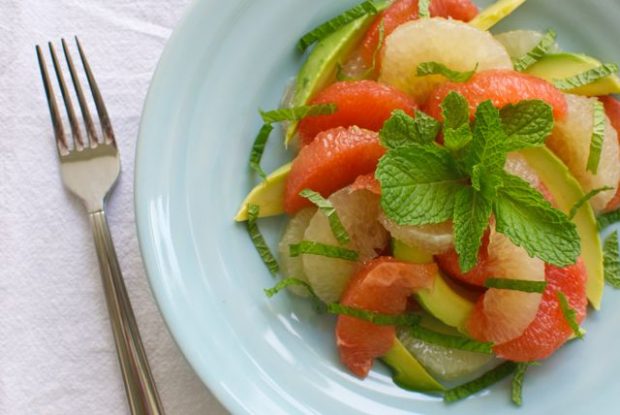 2 Ruby Red grapefruits
2 Oro Blanco (or other white-fleshed) grapefruits
2 small avocados
Handful of mint leaves, rough chopped
Honey and extra virgin olive oil for drizzling
Salt & pepper to taste
Using a knife, peel the grapefruits and cut off any remaining white pith.
Cut the grapefruit segments carefully over a bowl, being sure to avoid including the white skin between each segment, as this can be bitter. Place the segments in a different medium-sized bowl (the one you're cutting over will catch the juice - the other is for the salad)
Slice the avocado into medium-thin wedges, and add to the bowl of grapefruit segments.
Add several tablespoons of fresh chopped mint, a tiny pinch of salt and a drizzle of honey.
Toss gently to combine and taste for seasoning. Add black pepper, more honey and/or a little drizzle of olive oil if desired.
Recipe by
Eating Made Easy
at https://eating-made-easy.com/grapefruit-salad/