Sipping Chocolate For Two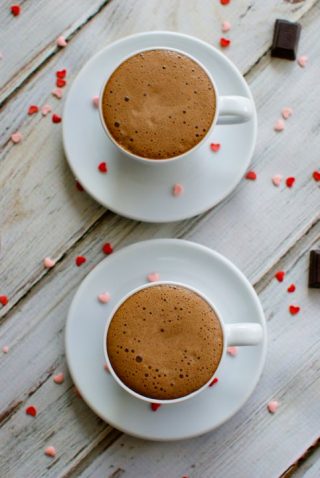 1 cup organic, pasture-raised half & half
2 Tbsp fair trade cocoa powder
3 Tbsp fair trade dark chocolate chunks or chips (use 2 Tbsp for less intense chocolate flavor)
2 Tbsp sugar
¼ tsp ground ancho chile powder
¼ tsp cinnamon
tiny pinch of salt
Place all ingredients except the chocolate chunks/chips in a small heavy-bottomed pot.
Heat over medium heat, whisking constantly, until mixture has simmered for 3-4 minutes (simmering helps the spices incorporate into the cream).
Remove from heat and let cool slightly, then blend with a milk foamer for extra foam and smoothness.
Drink as-is or top with a marshmallow.
If you like spice, add a little more chile powder and/or cinnamon.
Recipe by
Eating Made Easy
at https://eating-made-easy.com/sipping-chocolate-two/