Double Chocolate Peanut Butter Cup Muffins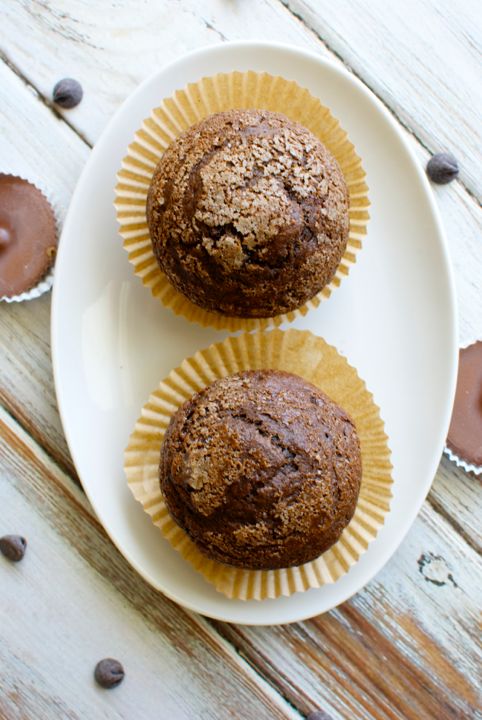 1 cup all-purpose flour
1 cup whole wheat flour
½ cup unsweetened cocoa powder (look for fair trade or organic)
1 tsp baking soda
½ tsp salt
¼ cup peanut or canola oil
½ cup sugar + more for sprinkling
2 eggs
1 tsp vanilla extract
½ cup + 2 Tbsp organic half & half (I used Organic Valley)
1 cup plain nonfat organic Greek yogurt (I used Stonyfield)
½ cup semi-sweet chocolate chips
2 pkgs Justin's Peanut Butter Cups (so 4 PB cups, either milk or dark chocolate), rough chopped
Preheat oven to 400. Line a 12-cup muffin tin with paper muffin cups and spray with a natural oil spray.
In a medium bowl, whisk together the flour, baking soda, salt and cocoa powder. Add the chocolate chips and peanut butter cup pieces and gently toss to coat with flour. Set aside.
In a large mixing bowl, whisk together the oil, eggs, ½ cup sugar and vanilla.
Stir in the Greek yogurt, then begin to add the dry ingredients a scoop at a time, alternating with the half & half until ingredients are just combined (careful not to over-stir).
Using an ice cream scoop or measuring cup, fill each muffin paper ¾ of the way up. (Note: you will have extra batter. I usually put the extra into a couple of greased ramekins or a small baking dish and bake along with the muffins.)
Bake at 400 for 18 minutes. Let cool in the pan for 2-3 minutes then remove to a cooling rack to cool completely. (Note: careful not to over bake, or the muffins may become dry).
Recipe by
Eating Made Easy
at https://eating-made-easy.com/double-chocolate-muffins/