Creamy Vanilla Overnight Oats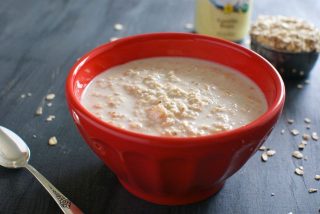 ½ cup quick oats
8 oz Organic Balance Milk Protein Shake
1 Tbsp chia seeds
Combine the oats, chia seeds and Organic Balance in a jar or lidded container and let sit overnight (at least 8 and up to 24 hours) in the fridge.
Optional: Add chopped fruit and/or cinnamon for additional flavor and texture.
In the morning, eat as is or heat for 1-2 minutes in the microwave (if heated, let cool before enjoying). Top with any toppings you like.
You'll have 3 oz of Organic Balance left, since it comes in an 11 oz bottle. Lucky you! Drink up :)

Also - I don't recommend using old-fashioned oats in place of quick oats here, since the quick oats absorb more liquid and make a creamier bowl of oatmeal.

If you don't care for chia seeds, just leave them out. The oatmeal will be a little thinner in consistency but still delicious.
Recipe by
Eating Made Easy
at https://eating-made-easy.com/creamy-vanilla-overnight-oats/