Pasta with No-Cook Tomato Sauce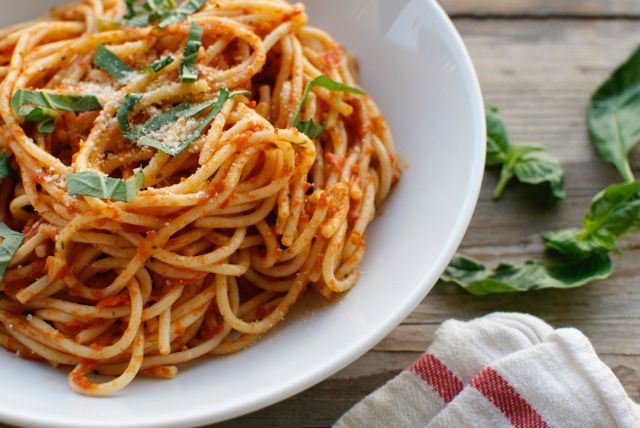 8 medium-large ripe tomatoes (the fresher and more flavorful, the better!)
1 handful fresh basil leaves
1 clove garlic (use more if desired)
4 Tbsp extra virgin olive oil
Salt & pepper to taste
12 oz spaghetti or any pasta you like
Bring a pot to boil and cook pasta according to package directions.
While pasta is cooking, cut tomatoes into quarters and place in a blender along with the garlic, basil leaves and 2 Tbsp olive oil. Pulse until sauce has formed, but still has some texture to it (I like to leave some chunks of tomato).
Taste sauce and season with salt & pepper as desired.
Drain cooked pasta and return to pot. Toss with the remaining 2 Tbsp olive oil then pour all the sauce from the blender into the pot and toss to combine.
Serve with grated Parmesan cheese and more chopped fresh basil leaves.
Recipe by
Eating Made Easy
at https://eating-made-easy.com/pasta-with-no-cook-tomato-sauce/