Quinoa Salad with Blueberries and Fresh Corn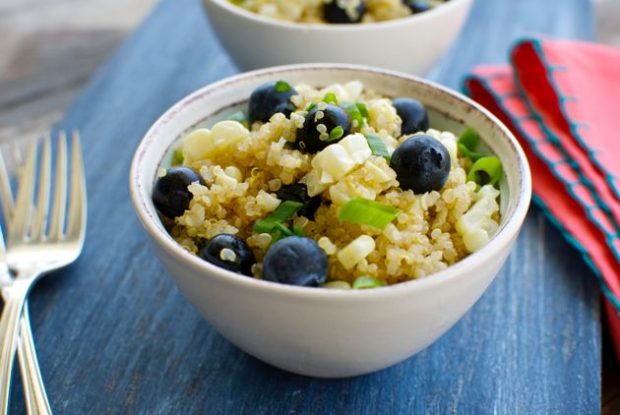 Serves:
4 side dish servings
3 cups cooked quinoa, cooled (Cook in veggie broth for best flavor)
Kernels from 2 ears of fresh cooked corn
1 pint blueberries
2 green onions, thinly sliced
Salt & pepper to taste
In a large bowl, add the cooked corn kernels, blueberries and sliced green onions to the cooked quinoa.
Gently toss to combine, then season with salt and pepper if desired.
Optional: add a drizzle of extra virgin olive oil.
Chopped fresh basil, crumbled feta cheese or garbanzo beans would also be delicious in this salad. Top the salad with grilled chicken, fish or tofu to make it a main dish.
Recipe by
Eating Made Easy
at https://eating-made-easy.com/quinoa-salad-with-blueberries-and-fresh-corn/