Easy Minestrone Soup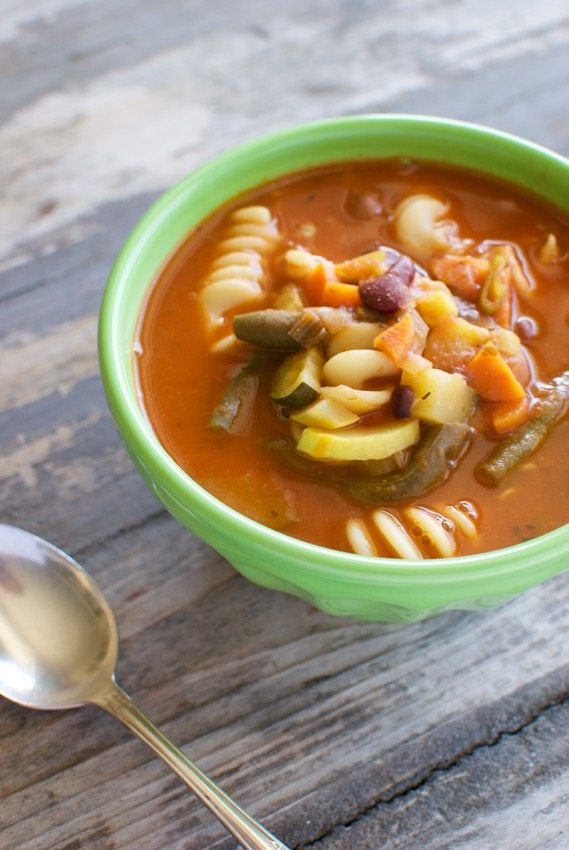 1 Tbsp olive oil
½ an onion, chopped
2 carrots, diced
1 clove garlic, finely chopped (or ½ tsp garlic powder)
½ tsp thyme
½ tsp oregano
1 bay leaf
1 15-oz can three-bean medley (or any other kind of bean), rinsed and drained
1 15-oz can tomato sauce
2 cups frozen mixed veggies (peas-carrots-green beans or something similar)
6 cups low-sodium veggie broth
2 cups cooked pasta noodles
Salt to taste
Heat the oil in a medium-large pot over medium heat.
Sauté the onion and carrot in the oil for 5 minutes or until softening.
Stir in the garlic, herbs and bay leaf and cook another minute.
Add the beans, tomato sauce, frozen veggies, and broth and simmer for 10 minutes.
Gently stir in the pasta and cook an additional 15 minutes. The pasta will absorb some of the water and also slightly thicken the soup, which is what we want here.
Remove bay leaf and taste for salt (I don't add any, since the broth and tomato sauce are salty).
Serve with crusty bread and a sprinkle of Parmesan cheese.