Low Sugar Blueberry Banana Muffins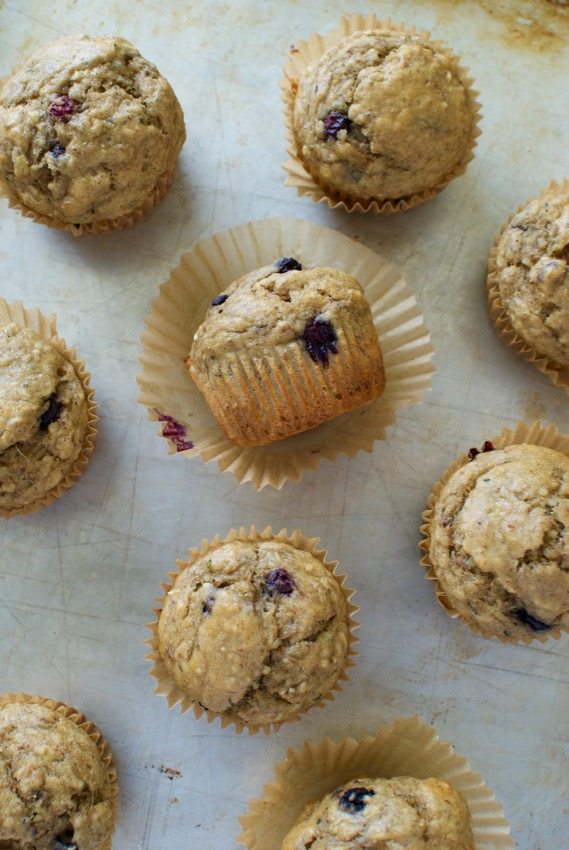 3 very ripe large bananas
¼ cup brown sugar
1 tsp vanilla
1 egg
1 Tbsp oil
½ cup whole milk Greek yogurt (I used Stonyfield vanilla whole milk Greek)
1 cup white whole wheat flour (or whole wheat pastry flour)
¼ cup flaxseed meal
¼ cup hemp seeds
¼ cup Scottish oats or oat flour (I used Bob's Red Mill Scottish oats)
1 tsp cinnamon
¼ tsp nutmeg
1 tsp baking powder
½ tsp baking soda
½ tsp salt
¾ cup frozen blueberries, tossed in 1 tsp flour
Preheat oven to 375.
Line a muffin pan with paper muffin cups and spray each lightly with cooking spray.
Place bananas in a large mixing bowl and mash with a fork.
Stir in vanilla, brown sugar, egg, oil and Greek yogurt.
In a separate bowl, combine flour, flaxseed, hemp seeds, baking powder, baking soda, salt and spices.
Gently stir the dry ingredients into the wet with a spatula, half at a time, until mixture is just combined. Stir in blueberries. Let sit 5 minutes.
Using an ice cream scoop or measuring cup, scoop about ⅓ cup batter into each muffin cup.
Bake muffins at 375 for 16-18 minutes or until slightly firm to the touch. Careful not to overbake, as this will make muffins tough on the bottom.
Remove from the oven and let cool in the pan 5 minutes, then remove muffins to a cooling rack.
Extra muffins can be stored at room temperature for 1 day then in an airtight container in the fridge for 3 additional days.
Recipe by
Eating Made Easy
at https://eating-made-easy.com/low-sugar-blueberry-banana-muffins/