Chocolate Chia Mousse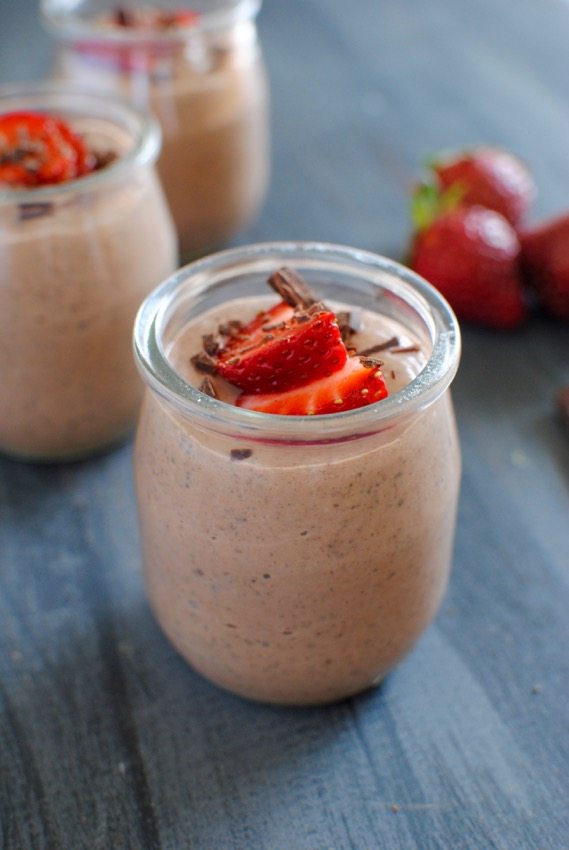 1 cup whole milk Greek yogurt (I used Stonyfield's vanilla)
½ cup milk
¼ cup chia seeds
½ tsp vanilla extract
2 Tbsp cocoa powder
2 Tbsp sugar
8 squares Divine dark chocolate (about ⅓ of the bar; if using another brand, use the number of squares that equal about ⅓ of bar)
Combine chia seeds, milk and yogurt in a bowl and let sit in the fridge for 1 hour (or overnight).
Place chia mixture in blender along with vanilla, cocoa powder, and sugar and blend until smooth, scraping down the sides several times to make sure the chia seeds get fully blended.
Add 6 of the chocolate squares and blend another minute. (This will leave tiny chocolate pieces in the mousse, which I love, but if you prefer a completely smooth mousse, add the chocolate with the other ingredients so they get more blended).
Pour into 2-4 small bowls and chill for an hour (or up to 2 days, covered) before serving.
Chop the remaining 2 chocolate squares and sprinkle on top of the mousse.
Serve with strawberries or raspberries.