Romaine Heart Salad with Avocado Vinaigrette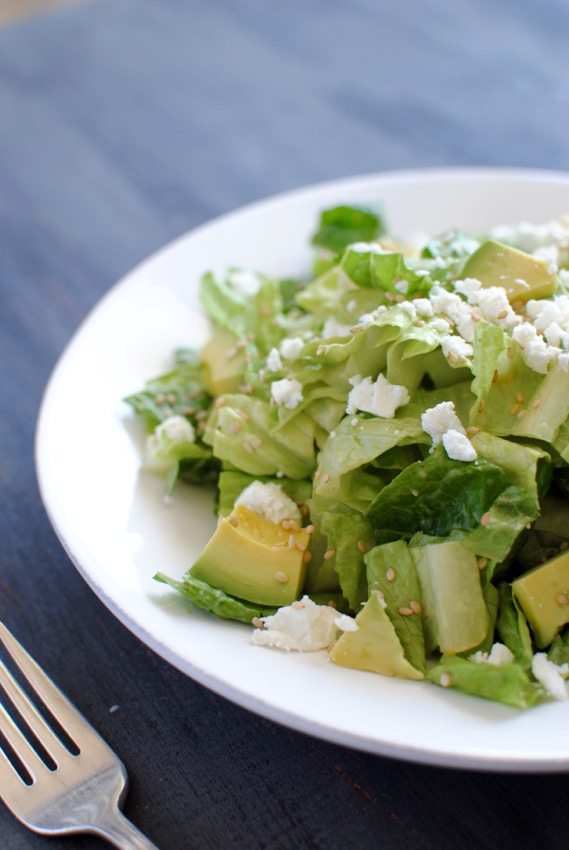 5 oz Romaine hearts, washed and dried (I used a package of Earthbound Farm Easy Leaves)
1 green apple, chopped
2 oz goat cheese, crumbled
2 Tbsp toasted sesame seeds
1 large avocado
¼ cup lemon juice
3 Tbsp olive oil
1 Tbsp honey
Pinch of salt
Blend ¾ of the avocado with the lemon juice, honey, salt and olive oil in a small blender or food processor until smooth (I used a stick blender - a.k.a immersion/hand blender and the tall cup it came with). Taste and add more salt if desired.
Chop Romaine hearts into bite-sized pieces and place in a salad bowl along with the chopped apple. Pour the dressing over the salad (you may have extra) and toss to combine.
Divide salad between two large bowls or plates and top each with half of the remaining avocado, goat cheese and sesame seeds.
Recipe by
Eating Made Easy
at https://eating-made-easy.com/romaine-heart-salad-with-easy-avocado-vinaigrette/