Super Quick Sweet Potato Hash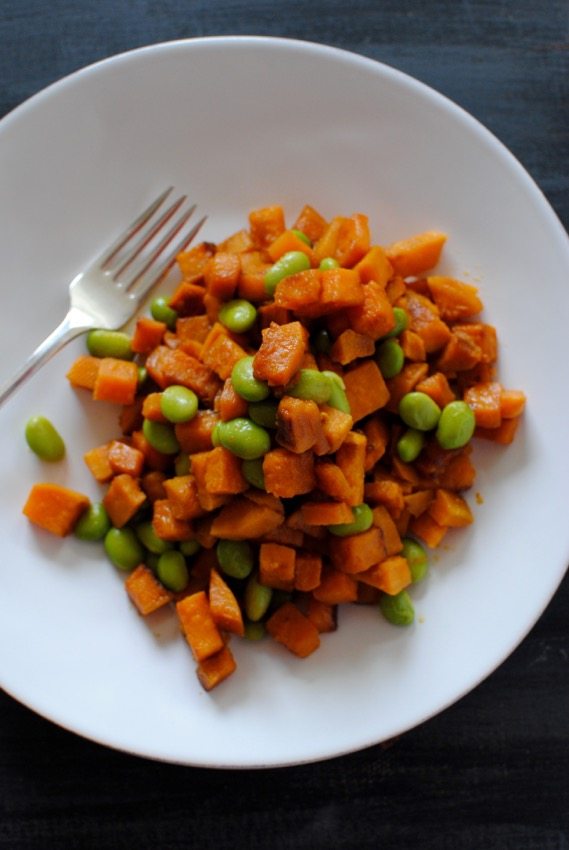 Serves:
2 large side-dish servings
2 Tbsp olive oil
1 large sweet potato, peeled and cut into small cubes
1 cup shelled and cooked edamame
Generous pinch of salt
Heat the oil in a large nonstick skillet over medium heat for 2-3 minutes.
When pan is hot (but not smoking) add the sweet potatoes and spread out into a single layer. Leave to cook for 3 minutes.
Shake the pan to agitate the sweet potatoes then cook another 3 minutes. The goal here is to let the sweet potatoes brown a little. If they're starting to burn or look too dark, turn the heat down a little.
Sprinkle with salt and add ½ cup water. Stir gently, then cover the pan and let sit over medium-low heat for about 5 minutes or until water is absorbed. Stab with a fork to test tenderness.
When fork-tender and water is absorbed, remove from heat and let cool before serving.
Recipe by
Eating Made Easy
at https://eating-made-easy.com/quick-sweet-potato-hash/