Chocolate Peanut Butter Breakfast Cookies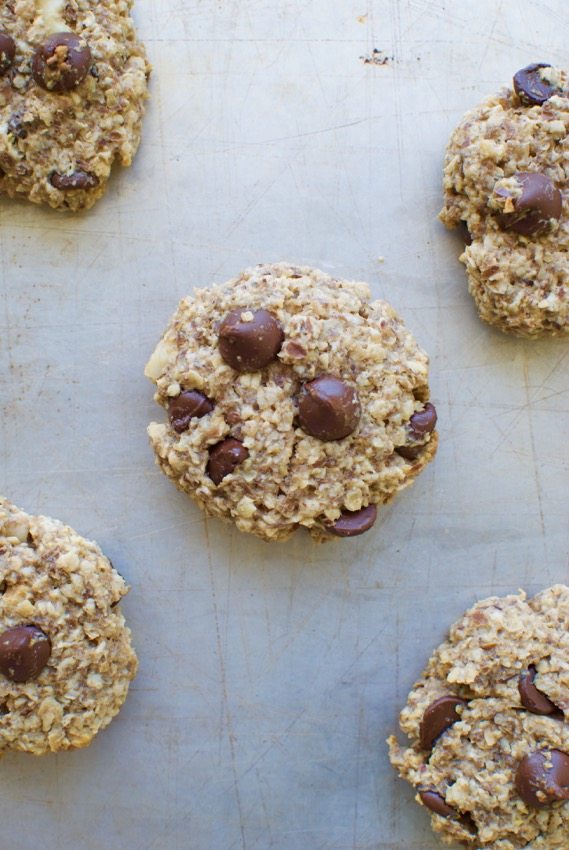 2 Tbsp coconut oil
2 heaping Tbsp peanut butter (I used Justin's)
¼ cup honey
1 Tbsp brown sugar
1 large egg
½ cup plain Greek yogurt (I used Stonyfield whole milk Greek)
1 tsp vanilla
1½ cups oats
¼ cup flaxseed meal (I used Bob's Red Mill)
¼ cup chopped walnuts (or use peanuts)
¼ tsp salt
½ tsp cinnamon
Pinch nutmeg
½ cup chocolate chips or chopped chocolate
Whisk together coconut oil, peanut butter, honey and brown sugar in the bottom of a mixing bowl.
Beat in egg, vanilla yogurt, cinnamon, salt and nutmeg.
With a spatula, stir in oats, flax, and walnuts.
Refrigerate mixture for 30 minutes.
Preheat oven to 325 and line a baking sheet with parchment paper.
Form balls of dough (2-3 Tbsp), place on sheet and use fingers to flatten slightly.
Bake 16-18 minutes or until slightly firm to the touch and beginning to brown on the top and edges.
Let cool 5 minutes on a baking rack.
Extra cookies can be stored in an airtight container in the fridge for up to a week. Warm cookies slightly in the toaster oven or for 10 seconds in the microwave before enjoying.
Recipe by
Eating Made Easy
at https://eating-made-easy.com/chocolate-peanut-butter-breakfast-cookies/