Chocolate Coconut Granola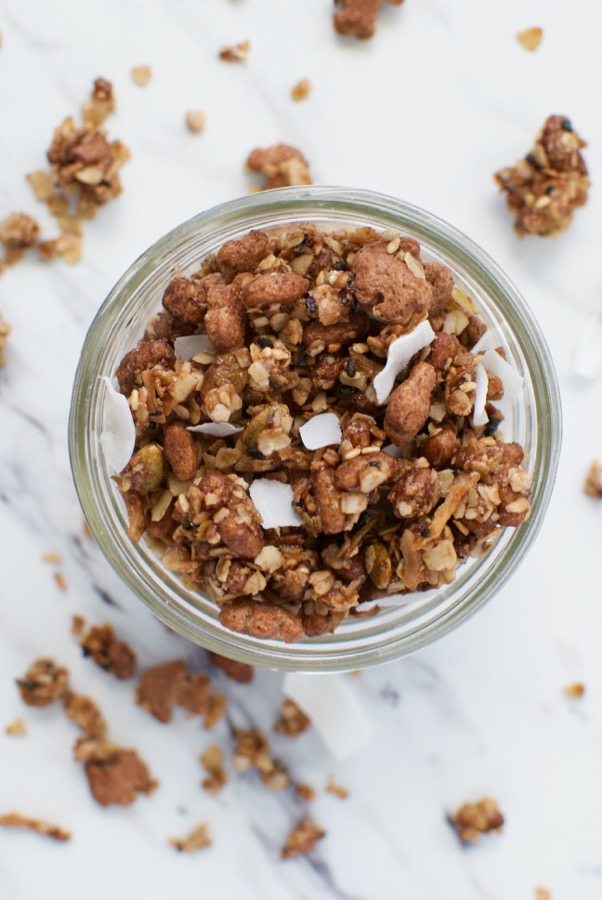 ¼ cup coconut oil, melted
¼ cup brown rice syrup (or corn syrup, or more honey)
¼ cup honey
2 Tbsp cocoa powder (use 1 Tbsp more + 1 extra Tbsp oil for more chocolate taste)
1 tsp vanilla extract
1 cup unsweetened coconut flakes (I like the big flakes)
1.5 cups oats
3 cups natural chocolatey cereal (I used 2 cups One Degree Organic Brown Rice Cacao Crisps + 1 cup Annie's Cocoa Bunnies)
½ cup seeds like sunflower seeds, sesame seeds, pumpkin seeds (or chopped nuts)
Combine oil, sweeteners, cocoa powder and vanilla in a mixing bowl.
Once smooth, add in the dry ingredients and toss to coat.
Line a baking sheet with parchment paper and lay granola out in a single layer on the baking sheet. Bake at 325 for 15 minutes then remove and stir. Reduce heat to 300 and put back in oven for an additional 10-15 minutes or until oats seem cooked and are beginning to brown.
Let cool then crumble into smaller chunks or pieces.
Store in a sealed jar for up to a month.
Recipe by
Eating Made Easy
at https://eating-made-easy.com/chocolate-coconut-granola/