Healthy Homemade Unicorn Frappuccino Copycat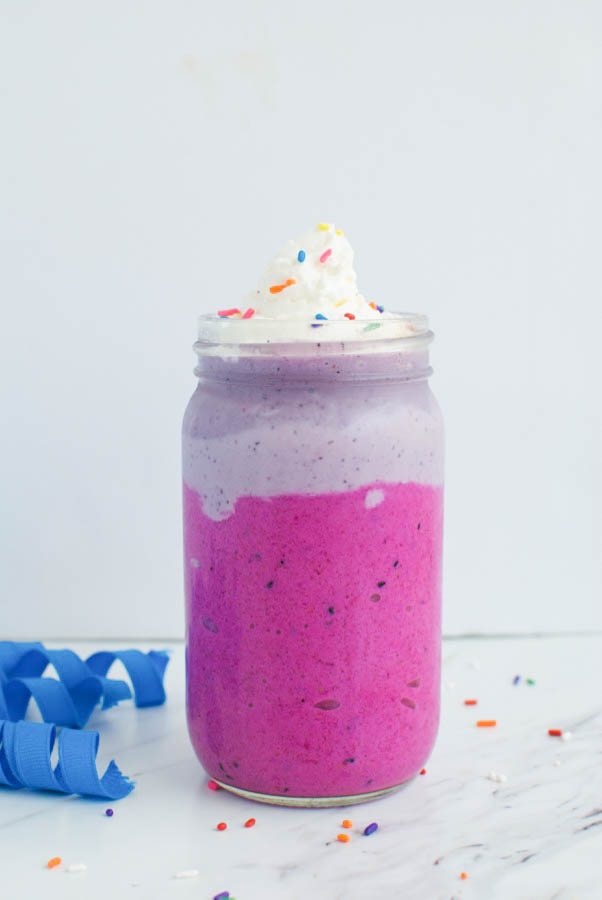 For the pink:
1 packet frozen pitaya (dragon fruit) - I bought at Whole Foods
1 frozen banana, cut into chunks
1 cup frozen strawberries
1 cup plain whole milk yogurt
For the blue:
¼ cup frozen blueberries
½ cup Coconut Bliss vanilla coconut ice cream (or any natural ice cream or yogurt)
Whipped cream and sprinkles for serving (Let's Do Organic! makes organic, naturally colored sprinkles)
Place two mason jars or glasses in the freezer to chill.
In a food processor (or blender, if you have a Vitamix or similar blender), blend the pitaya, strawberries, banana and plain yogurt until smooth yet still thick.
Using a spatula, scrape half the mixture into one of the jars/glasses, and half in the other. Place back in the freezer while you make the blue layer.
Rinse the food processor, then place the blueberries and coconut ice cream into the bowl and blend until smooth. Pour on top of the pink layer.
Top each smoothie with whipped cream and sprinkles, if desired.
Recipe by
Eating Made Easy
at https://eating-made-easy.com/healthy-homemade-unicorn-frappuccino/