Spaghetti Pie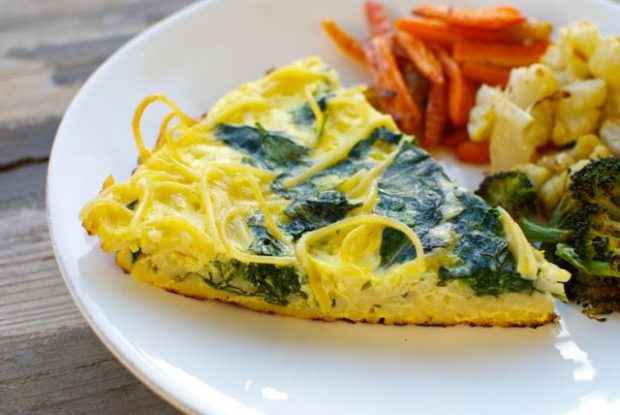 Recipe type:
Dinner or breakfast
3 Tbsp olive oil
4 eggs
1 cup low-fat milk
juice of 1 lemon
½ (or a little more) of a 16-oz bag of frozen spinach (or 3 cups packed fresh leaves)
2 cups cooked spaghetti noodles
salt & pepper
½ cup grated Parmesan cheese
Handful of fresh chopped Italian Parsley (optional)
Heat a generous drizzle of olive oil (use garlic or herb oil if you have it) in a large nonstick skillet over medium heat. Add noodles to pan and let cook 3 min.
Meanwhile, whisk eggs, milk, lemon juice, spinach, cheese, and parsley together in a large bowl along with a large pinch of salt & small pinch of pepper.
Pour egg mixture into pan with noodles and let cook over medium-low heat until the edges brown and the top edges begin to solidify. Turn heat to low, put a lid on the skillet and cook until the eggs are cooked through (slightly firm when you press on the middle of the pie).
Let cool a few minutes then slice into wedges and serve with another sprinkle of Parmesan cheese.