Healthier Peach Crisp A La Mode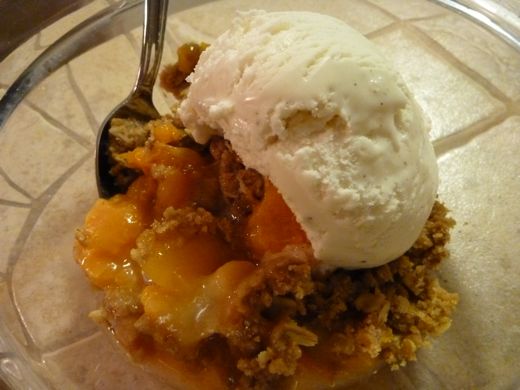 6 large very ripe peaches, cut into thin segments (peel if you like, but I don't)
½ stick cold butter, cut into little cubes
½ cup whole wheat flour
1 cup oats
¾ cup brown sugar
pinch of cinnamon
pinch of salt
1 Tbsp white sugar
3 Tbsp white flour or 2 Tbsp cornstarch
Preheat oven to 350. Gently toss peach slices, white flour/cornstarch, and white sugar in a large bowl. Pour into a 8X8 baking dish or pie plate. Put dish/pie plate on a baking sheet lined with foil.
In a separate mixing bowl, combine the butter, whole wheat flour, oats, brown sugar, salt, and cinnamon. Mix together with your fingers or a fork until it resembles coarse crumbs, the spread this mixture over the top of the peaches.
Bake for ~45 minutes or until top is golden brown and peach juices are bubbling up on the sides.
Let cool for at least 15 minutes, then serve with vanilla ice cream or a dollop of whipped cream.
You can make this recipe with any fruit you like. Peaches + blueberries, strawberries +rhubarb (have to add another ½ cup sugar to the fruit part), and apples + cranberries (with another ¼ cup sugar) are my favorite combos.
Recipe by
Eating Made Easy
at https://eating-made-easy.com/peach-crisp-a-la-mode/