Lobster Nachos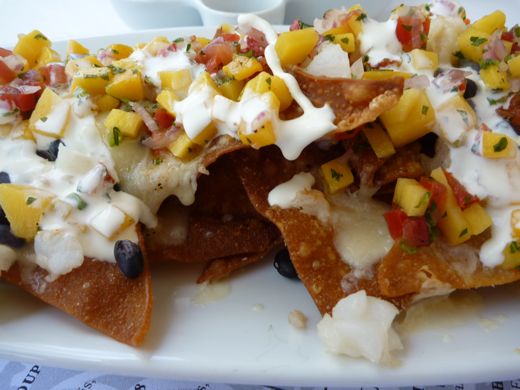 stone ground tortilla chips (or wonton chips, if you can find them)
8 oz Manchego cheese, shredded
1 ripe mango, peeled and cut into very small chunks
1 large ripe tomato, seeds removed and cut into small chunks
½ a small red onion, finely diced
Juice of 1 lime
Handful of fresh cilantro leaves, rough chopped
½ can black beans, rinsed and drained
½ lb cooked lobster meat, in chunks
4 oz whole milk Greek yogurt, at room temperature
Preheat oven to 350. Cover a baking sheet with foil, then lay the chips around the baking sheet. Spread the shredded cheese around the chips and bake until cheese is melted and chips are crispy (5-8 min).
Meanwhile, gently combine the mango, black beans, tomatoes, cilantro, red onion, and lime juice in a medium bowl. Sprinkle the mixture with salt and pepper. Set aside.
Remove the chips from the oven, top with the lobster meat (return to the oven for 1 min to get the meat warm, if you want), then spoon the mango mixture all around the nachos.
Drizzle with the Greek yogurt and serve immediately.