Southwest Stuffed Peppers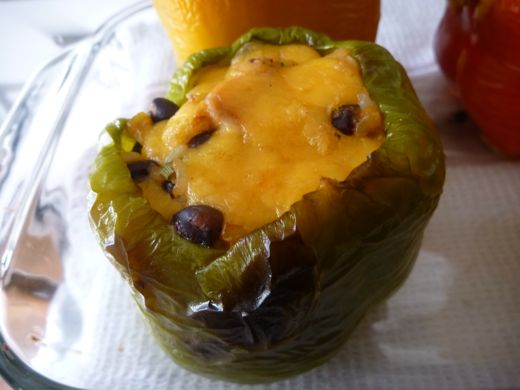 4 green, red or yellow peppers
2 cups cooked brown rice
1 can drained black beans
2 cooked chicken breasts, cut into chunks
12 oz jar chipotle salsa
1 cup corn kernels
1 4-oz can mild diced green chiles
1 tsp ground cumin
1 tsp dried oregano
Handful of fresh cilantro, rough chopped
Juice of 1 lime
½ cup Light sour cream
Preheat oven to 375. Cut around stem of each pepper with a sharp knife and pull out the stem, seeds, and inside ribbing. Set in a baking dish and sprinkle the inside of each pepper with salt.
In a large bowl, gently mix together the rest of the ingredients until well combined. Stuff each pepper with the stuffing, making sure to press it down into the pepper so each is completely stuffed.
Then, cut 2 oz sharp cheddar cheese into little cubes and stuff the cubes into the top of the peppers. These will melt down to make a cheesy layer and prevent the peppers from drying out in the oven. Bake at 375 for 45 minutes, or until peppers are brown and beginning to wrinkle. Let sit for 5 minutes before serving.
Recipe by
Eating Made Easy
at https://eating-made-easy.com/southwest-stuffed-peppers/