Mocha Mud Pie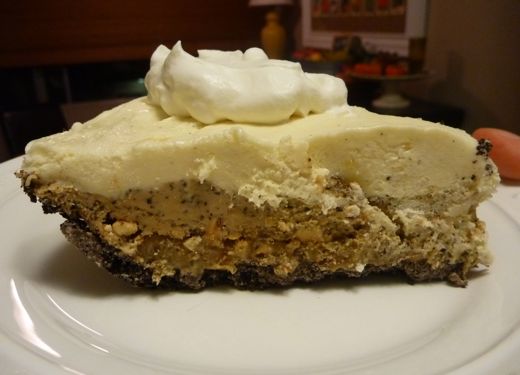 2 tablespoons Unsalted Butter, melted
20 Chocolate sandwich cookies, like Newman's Own
½ cup Toffee bits (like crushed Heath bar)
6 ounces Caramel sauce
1 pint coffee ice cream
1 ½ pints vanilla ice cream
Preheat oven to 350. Break cookies into large pieces and place in a food processor. Pulse until cookies are in large crumbs, then pour in melted butter and pulse a few more times to combine. Press crumbs into a pie plate to form a crust and bake for 8 minutes. Let cool completely.
Heat jar of caramel sauce according to package directions. Pour over crust, then sprinkle with toffee pieces. Place in the freezer for 15 minutes or until caramel is firm.
Let coffee ice cream sit at room temperature for 10 minutes. Spoon into the pie and spread into an even layer with a spatula or spoon. Return to freezer for 30 minutes or until ice cream is hard.
Let vanilla ice cream sit at room temperature for 10 minutes or until soft enough to spread with a spatula. Remove pie from freezer and spread vanilla ice cream over the coffee ice cream with a spoon or spatula until it's an even layer. Return to freezer. Let freeze for at least an hour before serving. If not eating immediately, cover with plastic wrap.