Turkey Posole Soup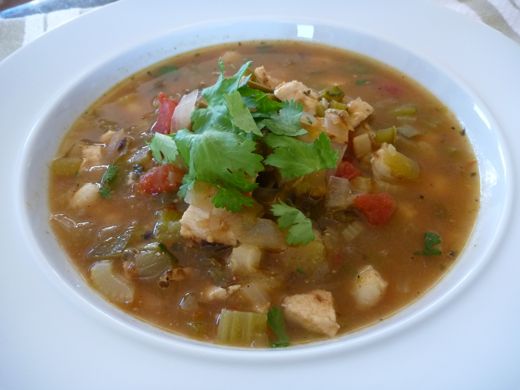 1 tablespoon Canola Oil
1 whole Yellow or Brown Onion, diced
4 stalks Celery, diced
1 Poblano Peppers, diced
2 teaspoons Ground Cumin
1 teaspoon Dried Oregano
1 quart Chicken Broth, Low sodium
15 ounces Fire Roasted Diced Canned Tomatoes, (1 can)
4 ounces Diced green chiles, (1 can)
1 teaspoon Ground Coriander
1 cup Fresh Cilantro, rough chopped
2 cups Canned Hominy, (1 can)
2 cups Cooked turkey breast, diced (can also use dark meat)
Heat a large heavy-bottomed pot (like a Dutch oven) over medium heat. Add canola oil, then chopped onion, celery, poblano pepper, and a pinch of salt & pepper. Saute veggies until soft, about 10 minutes.
Stir spices into veggies and let cook 1 min, then add the cans of green chiles and tomatoes, salsa, and broth. Let mixture come to a simmer then cover and cook over low heat for about 20 minutes.
Drain the hominy in a strainer, then add it to the pot along with the turkey meat. Cook for 2-3 minutes then stir in the cilantro and serve with a wedge of lime (optional).