Couscous Salad with Greens and Beans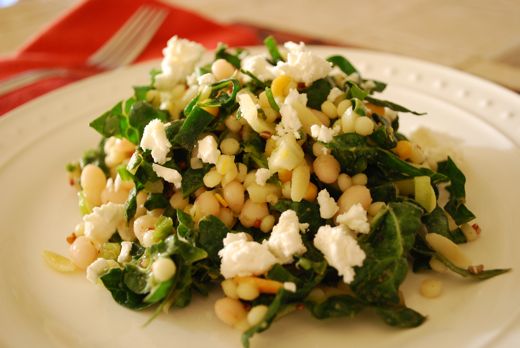 1 ½ cups Israeli Couscous
¼ cup Extra Virgin Olive Oil
¼ cup Fresh Lemon Juice, from 1-2 lemons
1 pinch Kosher salt
1 pinch Ground black pepper
⅓ cup Fresh Cilantro, rough chopped
3 Green Onions, thinly sliced
1 Poblano Peppers, seeded & finely diced
1 Fennel Bulb, cored & shaved or very thinly sliced
4 cups Black Kale, Green chard, Napa cabbage, or other green; shredded
1 can Small white beans, rinsed and drained
4 ounces Good Feta Cheese, crumbled or cut into chunks
I recommend using broth instead of water for more flavor (or add 1 tsp salt + 1 Tbsp butter to the water). Spread couscous out onto a plate and place in the fridge to cool.
Whisk lemon juice olive oil, salt, and pepper in the bottom of a large bowl.
Add fennel, kale (or any other type of greens you like), cilantro, green onions, poblano peppers, and white beans to the bowl and toss with the vinaigrette.
Remove couscous from fridge and add it to the salad along with the feta cheese. Gently toss so all ingredients are coated with vinaigrette and serve. If salad seems dry, add more lemon juice and olive oil to taste. May be eaten warm, cold, or at room temperature.
Recipe by
Eating Made Easy
at https://eating-made-easy.com/couscous-salad-with-greens-and-beans/