Cheesy Eggplant Pasta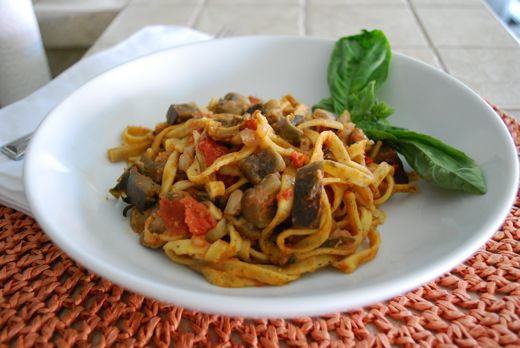 ¼ cup Extra Virgin Olive Oil
1 cup Fresh Basil Leaves, rough chopped
1 whole Yellow or Brown Onion, chopped
8 ounces White Mushrooms, sliced
2 whole Eggplant, cut into cubes
4 ounces Mozzarella Cheese, cut into cubes
28 ounces Canned Whole Tomatoes, (1 large can)
1 pound Linguine noodles
4 ounces Fresh Mozzarella, rough chopped
Heat a large skillet over medium heat for 2 minutes. Add olive oil, onion, and a pinch of salt and saute 2 min. Add eggplant, mushrooms, and garlic and cook about 10 min, stirring occasionally. Season again with salt & pepper. Pour the juice from the canned tomatoes into the skillet, then break up the tomatoes with your fingers and add those too. Cook another 5 min (while pasta is cooking), then stir in half the fresh basil and the regular mozzarella cheese cubes.
While veggies are cooking, bring a large pot of water to a boil. Add a small handful of salt and the noodles. Cook according to package directions (if possible, get the semi-fresh pasta that only takes 4-6 minutes), then drain and add noodles to the cooked veggies.
Add a second handful of rough chopped basil and the chopped fresh mozzarella. Toss to combine, then place in a large bowl or platter and serve immediately.