Key Lime Pie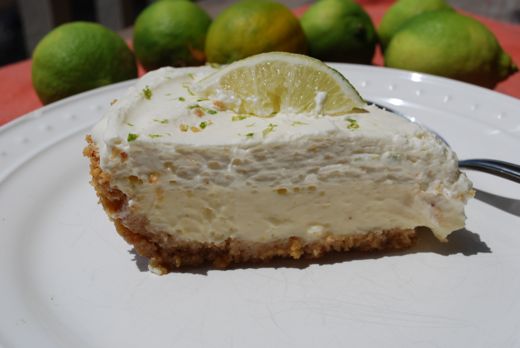 3 tablespoons Honey
¼ cup Flaxseed Meal
1 ½ cups Graham cracker crumbs
¼ cup Butter, melted
14 ounces Sweetened Condensed Milk, 1 can
2 Large Eggs
6 ounces Plain lowfat yogurt
1 cup Fresh lime juice
½ teaspoon Vanilla Extract
3 tablespoons Powdered Sugar
1 tablespoon Lime zest
8 ounces Heavy whipping cream
6 ounces Vanilla lowfat yogurt, preferably Greek
Preheat oven to 350. Combine graham cracker crumbs, butter, honey, and ground flaxseed (you can skip the flax if you want, and just use an extra ¼ cup graham crumbs) in a medium bowl until well incorporated. Pour into a glass pie dish and press down with your fingers so that crumb mixture becomes a crust. Bake for 8-10 minutes then let cool completely.
Reduce oven temperature to 325. In a large mixing bowl, whisk together the eggs, sweetened condensed milk, plain yogurt (not the vanilla), and lime juice. Pour into the graham cracker crust and bake for 25-35 minutes or until middle is somewhat firm (it will firm up more after cooling). Remove from oven and let cool at room temperature for 1 hour, then in the fridge for at least 2 hours.
Using a stand mixer or electric hand mixer, whip cream until soft peaks form. Sprinkle in powdered sugar, drizzle in vanilla extract, then continue whipping until stiff peaks form. With a spatula, fold vanilla Greek yogurt into the whipped cream until mixture is smooth (folding means gently combining so as not to remove the air from the whipped cream). Pour this mixture on top of the lime filling layer of the pie and spread out until smooth. Sprinkle lime zest over top of the pie refrigerate until ready to serve.