Salsa Pasta with Fresh Corn & Feta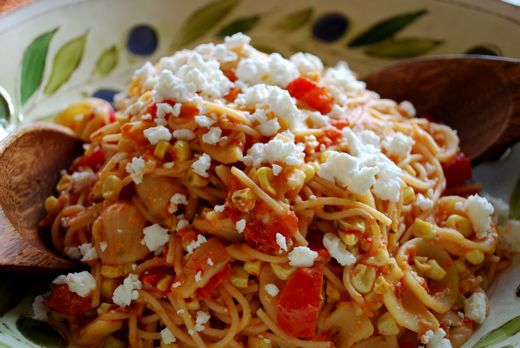 12 ounces Spaghetti
2 cups Tomatoes, chopped
3 cups Fresh Corn Kernels
1 ½ cups Good Feta Cheese, crumbled
2 cups Tomato salsa
½ cup Fresh Cilantro, rough chopped
Bring a large pot of water to a bowl. Add 1 Tbsp salt, then add noodles and cook according to package directions.
While pasta is cooking, Place salsa and half the cheese in the bottom of a large bowl. Microwave 3 corn on the cob for 3-4 minutes or until mostly cooked. Use a knife to cut kernels off the cob, then add the kernels to the bowl.
Add hot noodles to the bowl, then toss a few times. The noodles will absorb some of the salsa. Before serving, top the pasta with more crumbled cheese and fresh cilantro.
Recipe by
Eating Made Easy
at https://eating-made-easy.com/salsa-pasta-with-fresh-corn-feta/