Meyer Lemon and Tomatillo Gazpacho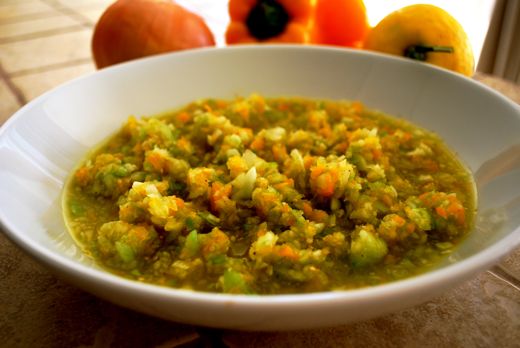 1 handful Fresh Cilantro
1 whole English or Hothouse Cucumber
2 whole Orange or Yellow Bell Pepper
½ medium Red Onion
1 ½ lbs Tomatillos, husks removed
½ teaspoon Ground Cumin
1 tablespoon Extra Virgin Olive Oil
2 tablespoons White Wine Vinegar
¼ cup Fresh Lemon Juice, from a Meyer or regular lemon
2 teaspoons Sugar
2 teaspoons Kosher salt
10 dashes Hot sauce
Cut all the veggies into large chunks. Place the cucumber chunks in the food processor and pulse until very finely chopped. Scrape cucumbers into a large bowl. Repeat this process with the yellow peppers, cilantro, onion, tomatillos, until all your veggies are blended.
Add the lemon juice into the bowl, along with the cumin, hot sauce, white wine vinegar, oil, sugar, and salt.
Chill the gazpacho for at least 30 minutes in the fridge before serving. Flavors will meld the longer the soup sits, so if you can make this soup the night before you need to serve it, even better. Garnish with avocado cubes, more cilantro leaves, or a dollop of Greek yogurt.
Recipe by
Eating Made Easy
at https://eating-made-easy.com/meyer-lemon-and-tomatillo-gazpacho/