Summer Gazpacho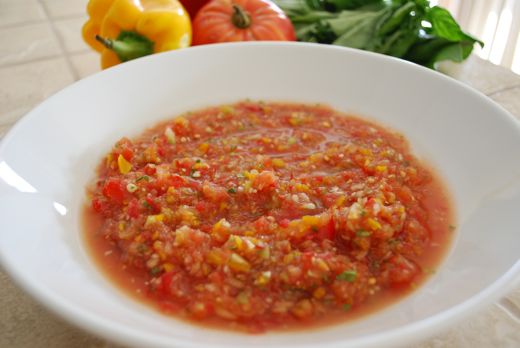 1 small onion cut into chunks
2 large cucumbers cut into chunks
2-3 bell peppers (any color)
2 lbs tomatos
handful of basil, parsley or cilantro
splashes of lemon juice, lime juice or any vinegar you have on hand
pinch of salt
pinch of pepper or chili powder
Pulse the onion and cucumbers first until you get a chunky puree then pour the veggies into a large bowl.
Next, chop the tomatoes and the bell peppers along with some basil, parsley, or cilantro (a large handful of leaves).
Add some splashes of lemon juice, lime juice, or any vinegar you have on hand, along with a generous pinch (at least 1 tsp) of salt and a little pinch of pepper or chili powder. Pulse until you have fine chunks.
Eat this soup at room temperature or chill.