Korean BBQ Tofu with Mushrooms & Asparagus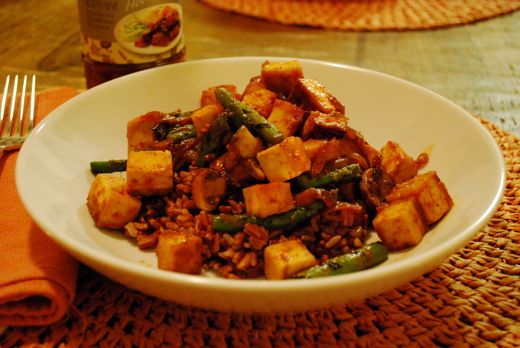 14 oz.extra firm tofu (organic if possible)
2 tbs olive oil, divided
salt
pepper
6 asparagus spears cut into pieces
8 oz mushrooms halved
cooked rice
korean BBQ Sauce
Simply cut extra firm tofu into cubes and lay on paper towels to dry for a few minutes. Toss the cubes with a little oil, salt, and pepper, and roast on a foil-lined baking sheet for about 15 minutes at 425.
The tofu won't be done at this point, but this is when you add your veggies of choice – thinly sliced onion, snap peas, asparagus spears, halved mushrooms, and broccoli florets are some of my favorites. Toss everything with a little more oil then roast another 15 minutes.
Remove from oven, drizzle your favorite jarred or homemade sauce over the baking sheet and toss to combine. Serve this mixture over rice, as you would stir-fry.
Recipe by
Eating Made Easy
at https://eating-made-easy.com/korean-bbq-tofu-with-mushrooms-asparagus/