Spicy Roasted Red Pepper and Tomato Soup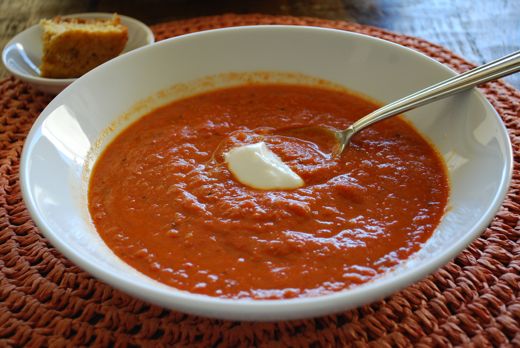 1 medium onion, chopped
2 Chipotle peppers canned in adobo sauce, finely chopped
½ cup white or red wine
Two 12-oz jars roasted red peppers, drained well and chopped
1 28-oz can diced fire roasted tomatoes
1 14-oz can diced tomatoes of any kind
1-2 cups water
½ cup heavy cream (I never use cream, but it's worth it here!)
Salt to taste
Heat a heavy bottomed pot (like a Dutch oven) over medium heat. Add a generous drizzle of olive oil (1-2 Tbsp) and the onions and saute for 5-7 minutes or until onions are soft and translucent.
Sprinkle with a little salt (1/4 tsp) then stir in the wine and Chipotle peppers. Let the wine evaporate (2-3 minutes) then add the roasted red peppers, canned tomatoes, and water and let simmer for 15 minutes.
Remove the pot from the heat and blend using an immersion blender (aka hand blender) until the soup is a smooth consistency.
Stir in the cream and serve with a dollop of yogurt on top, if desired.
FYI: this soup is spicy! If you prefer mild tastes, add only one Chipotle pepper.
Recipe by
Eating Made Easy
at https://eating-made-easy.com/spicy-roasted-red-pepper-and-tomato-soup/