Summer Squash Mac and Cheese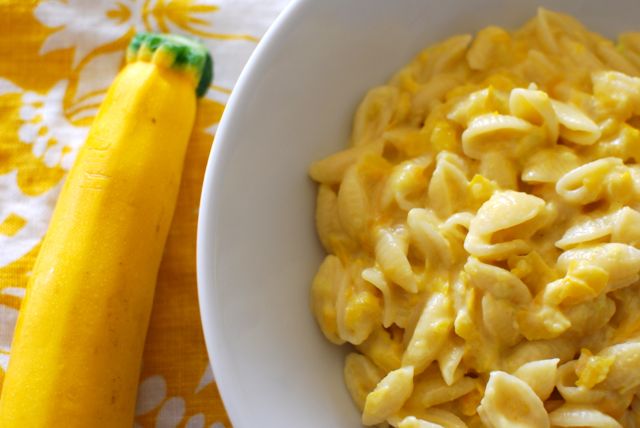 2 cups dry macaroni noodles, shells, or any other small pasta
3 medium yellow squash (the ones that look like yellow zucchini), shredded
2 Tbsp butter
1 Tbsp flour
2 cups whole milk
2 cups shredded medium cheddar cheese
Salt to taste
Place shredded squash in a strainer over the sink and let sit for 15 min so that any excess water can drain.
Bring a large pot of water to a boil. Add a generous pinch of salt and cook noodles according to package directions. Drain and set aside.
Add butter, shredded squash and a pinch of salt to the pan and saute over medium heat for 4-5 minutes or until squash has softened and released some of it's water. Add the flour and saute another minute.
Reduce heat to medium-low, pour in milk and stir regularly until milk is steaming and has thickened a little. Remove the pot from heat, add a small pinch of salt and stir in the cheese.
Continue stirring until cheese has melted, then add the noodles back to the pot and stir gently until ingredients are well-incorporated.
Serve hot.
Recipe by
Eating Made Easy
at https://eating-made-easy.com/healthy-mac-and-cheese-for-summer/