Kale Salad with Avocado and Dates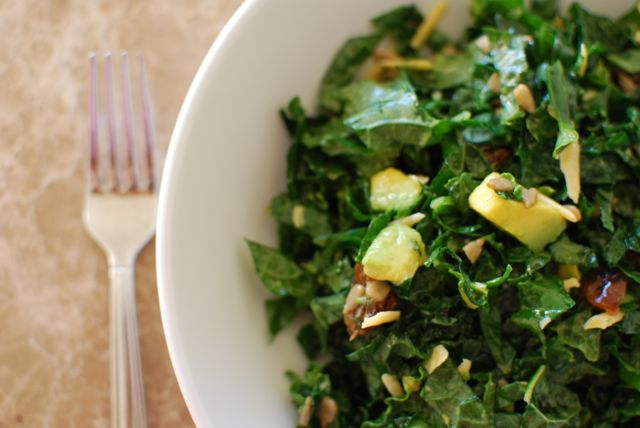 Juice of 1 lemon
2 Tbsp honey
3 Tbsp extra virgin olive oil
½ tsp kosher salt
1 large bunch black kale, stems removed and leaves chopped
2 stalks celery, thinly sliced
1 avocado, cut into small chunks
8 dates, pitted and chopped
2 Tbsp grated Parmesan or Romano cheese
2 Tbsp sunflower seeds
In a large salad bowl, whisk together the lemon juice, honey, olive oil and salt. Add a pinch of ground black pepper if desired.
Toss the kale leaves with the dressing and let sit 5 minutes, then toss again. Repeat 2-3 times until kale has absorbed some of the dressing.
Add remaining ingredients, toss and serve.
Salad will keep in the fridge for 1-2 days.
Serving size:
2-4 servings
Recipe by
Eating Made Easy
at https://eating-made-easy.com/how-to-make-the-perfect-kale-salad/